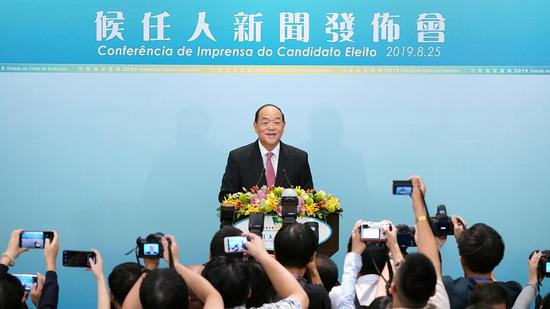 Ho Iat Seng speaks during an event in China's Macao Special Administrative Region, August 25, 2019. /Xinhua Photo
Roughly 20 years ago, when Hong Kong and Macao were handed back to China by Britain and Portugal respectively, the central government granted them the status of Special Administrative Region (SAR) under the principle of "One Country, Two Systems," demonstrating a high degree of executive, legislative and judicial autonomy.
While recent mass protests rocked Hong Kong over the now-fully-withdrawn fugitive bill, Macao - being an-hour ferry ride away from the financial hub - remains spared from the turmoil that has turned increasingly violent in recent weeks.
In fact, Macao's chief executive, Ho Iat Seng, who was appointed as the head of the SAR government for a fifth-term by China's central government on Wednesday, has reiterated his commitment to the principle of "One Country, Two Systems" and pledged that he would "spare no effort" to uphold it.
Experts say that Macao has been a very successful model of the formula. As popular Chinese commentator Victor Gao put it: "The improvement of the region over years speaks for itself.
Macao: An economy that grows at 10% annually
Since its return in 1999, Macao's economy has continued rocketing at an annual rate of over 10 percent, according to China's official Xinhua News Agency.
Data from the International Monetary Fund (IMF) 2018 report ranked Macao No. 2 with a 122,489-U.S.-dollar per capital GDP, just behind the oil-rich Qatar. Yet the IMF predicted that the continuing economic growth in the gaming industry hub would soon allow it to overtake Qatar. By 2020, Macao is poised to become the richest place on the planet.
If those numbers speak for anything, its neighboring Hong Kong, at roughly half of Macao's total as of 2018, was only placed on No. 10 position in the same table.
Gao, vice president of the Center for China and Globalization, said Macao's economy is dependent on the Chinese mainland, in leisure tourism, trade and other integrating mega projects.
"It is felt that maintaining close relations with the central government and with the Chinese mainland as a whole is absolutely in their interest," Gao said.
The central government had stepped onto Macao's soil when it was in chaos due to gangsters' interests in casinos ahead of its handover, Associate Professor Eilo Wing-yat Yu at the University of Macao told ABC, adding "Macao society has a relatively strong pro-Beijing sentiment that is conducive to Beijing-Macao harmony."
Macao's pro-Beijing sentiment
Back in July 2003, Macao first introduced "Individual Visit Scheme" for mainland visitors, before which they could only travel on business visa or in group tours. Since then, over 100 million Chinese mainland residents have traveled across.
To take a step forward and integrate further with the Chinese mainland, Macao and Zhongshan, south China's Guangdong Province, initiated "Individual Yacht Visit Scheme," a sightseeing trip taking advantage of the newly built Hong Kong-Zhuhai-Macao bridge. This tour also builds upon the concept of "city cluster," which lays a solid groundwork for economic development for all involved.
This has made tourism the No. 1 industry in Macao, thus promoting the region's service sectors including retail, hotels, advertisements and communications.
Unlike some Hong Kong residents who have garnered some negative perceptions about the people from the Chinese mainland in the wake of the influx of mainland visitors and capital to Hong Kong in the past decade, Macao has embraced its long-separated family and appreciated the efforts made by the central government over the years.
Traditional Chinese medicine entrepreneur Irene Wong King, who has just expanded her business from Macao to Zhuhai, south China's Guangdong Province, appreciated the Closer Economic Partnership Arrangement signed in 2003.
"My company's raw material and final products enjoy zero tariff, plus there are many supporting facilities and policies provided by the industrial park," she told Xinhua News Agency.
Macao's message to foreign forces: 'No thank you!'
There has been an increasing evidence to suggest foreign involvement in Hong Kong unrest as demonstrators have been seen waving foreign flags, equipped with offensive weapons like petrol bombs and iron rods. Foreign interference has never been heard in Macao, which has remained at an arm's length from the teeming masses.