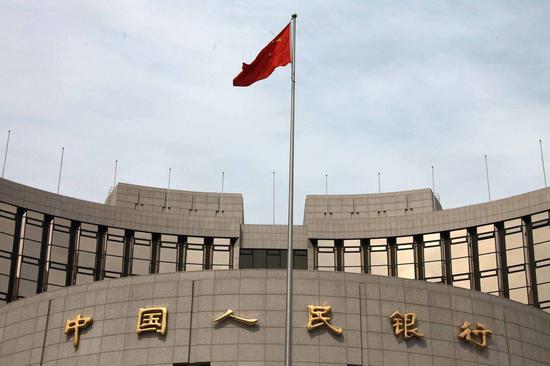 File photo shows a building of People's Bank of China. (Xinhua)
China will allocate, in advance, part of next year's special bonds quota and ensure that funds raised from these bonds are readily available at the start of next year in an effort to spur effective investment for shoring up weak areas and expanding domestic demand.
The decision was made on Wednesday at the State Council's executive meeting chaired by Premier Li Keqiang.
Wednesday's meeting pointed out that China's economy maintained the momentum of overall stability and achieved steady progress in the first half of this year.
Facing a more challenging and complex external environment, the government must deliver the measures to streamline administration and cut taxes and fees, improve the business environment, and boost market vitality.
Effective investment needs to be expanded. All special local government bonds in this year's quota must be issued by the end of September and disbursed to projects by the end of October. Local governments will be urged to ensure that these projects generate activities in the real economy as quickly as possible.
The government will keep a prudent monetary policy with anticipatory adjustments and fine-tuning as appropriate. The measures to reduce real interest rates will be implemented at a faster pace. Policy tools like general and targeted cuts in required reserve ratio will be employed as appropriate to enhance the ability of financial institutions to serve the real economy, particularly small and micro businesses.
"We have adopted a multi-pronged approach in tackling downward economic pressure, including cutting taxes and fees, and transforming government functions. The goal is to energize market players and ensure that the economy operates within a proper range," Li said.
"China is still a developing country and much remains to be desired in infrastructure and other fields. This development stage determines that we must have stable effective investment," Li added.
It was decided at the meeting that to meet the local needs for the construction of key projects, part of next year's special bonds quota will be allocated in advance to ensure that the funds is available for use at the beginning of next year.
The scope for the use of these bonds will be expanded with a focus on transportation infrastructure including railroads, metro rails and urban parking lots, energy projects like power grids and natural gas pipeline networks in urban and rural areas, and ecological projects in agriculture, forestry, water conservancy as well as urban sewage and waste disposal. Livelihood services in education, medical care, elderly care and child care as well as urban utilities will also be prioritized.
The meeting pointed out that funds raised from the special bonds shall not be used in areas related to land reserve and real estate, for debt swap, or for industrial projects that can be fully developed commercially.
The scope where special bonds can be used as project capital is defined in major infrastructure areas in the above-mentioned priorities.
"Our measures must be well-targeted. There needs to be solid activities in the real economy before the end of the year," Li said. "The scenario where the 'funds chases after projects' must be avoided."
The meeting urged greater efforts in project management and preventing "half-finished projects." Funds will be allocated to projects as required. The special bonds will first go to well-prepared projects that have completed approval procedures. Regions with a good track record of bond issuance and use and suitable conditions for construction this winter and next spring will be favorably considered. Relevant departments and local governments need to strengthen project reserve.
"Competent departments and local authorities need to carefully study how to prepare for effective projects. They should make accurate and meticulous calculations and take new measures to ensure that the investment will be cost-effective, and contribute to greater development and better livelihood," Li said.
Data from the Ministry of Finance showed that, between January and August, a total of 2.0057 trillion yuan (about 280.4 billion U.S. dollars) of special bonds were issued in China, accounting for 93.3 percent of this year's planned quota.