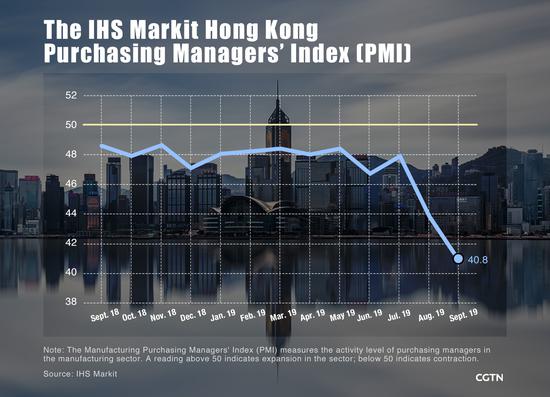 The decline in business activities in Hong Kong accelerated in August to near-record levels as protests continue to dampen demand, London-based consulting firm IHS Markit reported Wednesday.
Hong Kong's Purchasing Manager's Index (PMI) sank to 40.8 in August, down from 43.8 in July, signaling the steepest deterioration in the health of the private sector since February 2009, according to IHS Markit's PMI survey.
The only other time that the PMI survey has recorded a steeper downturn was during the SARS epidemic in 2003 and the global financial crisis in 2008, said Bernard Aw, principal economist at IHS Markit.
PMI is a composite single-figure indicator of economic performance derived from indicators for new orders, output, employment, suppliers' delivery times and stocks of purchases. Figures greater than 50 indicate overall improvement of the economy.
Hundreds of thousands of people have taken to the streets since mid-June in protests, embroiling the city in unrest.
The Asian financial center's current situation has fanned business pessimism, with confidence slumping to its lowest on record, the survey showed.
New orders continued to decline and at the sharpest pace since February 2009, dragged by a record decline in new business from the Chinese mainland.
Hong Kong is on the verge of its first recession in a decade. The economy shrank 0.4 percent in April-June from the previous quarter, data showed, as increasingly violent protests turned away tourists and hit retail sales in one of the world's most popular shopping destinations.
(With input from Xinhua and Reuters)