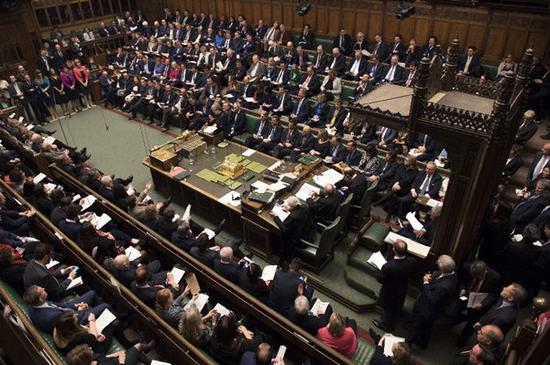 Photo taken on March 27, 2019 shows the Prime Minister's Questions in the House of Commons in London, Britain.(Xinhua/UK Parliament/Mark Duffy)
British Prime Minister Boris Johnson on Wednesday started the process of suspending the Parliament by asking Queen Elizabeth to approve the measure in a move condemned by opposition politicians at Westminster.
Downing Street insisted that the plan to effectively shut down the House of Commons from mid-September until Oct. 14 was a routine procedure to pave the way for a Queen's Speech to start a new session of parliament.
Johnson confirmed the plan in a letter he sent to all MPs outlining the new session of parliament will start on Oct. 14 with a Queens Speech in the Palace of Westminster, seat of the British parliament.
Johnson confirmed he had spoken to the British monarch who is currently on her annual holiday at Balmoral Castle in Scotland.
In a statement issued through 10 Downing Street, Johnson said: "We must focus on crucial public priorities - helping the NHS, fighting violent crime, investing in infrastructure and science and cutting the cost of living."
"We have made an important start but to deliver on the public's priorities we require a new session and a Queen's Speech," he added.
"I believe it is vital that Parliament is sitting both before and after European Council and if, as I hope, a deal with the EU is forthcoming, Parliament will then have the opportunity to pass the Withdrawal Agreement Bill required for ratification ahead of 31 October," Johnson explained.
Johnson told MPs that the current session of Parliament has lasted more than 340 days, one of the longest in 400 years, and needs to be brought to an end.
He said it was completely untrue to claim the suspension of parliament was an attempt to deny MPs the chance to debate and vote on Brexit.
Critics immediately complained that Johnson's plan was deliberately intended to make it difficult for MPs in the House of Commons to stop his plan to bring Britain out of the European Union on Oct. 31 with or without a deal with Brussels.
John Bercow, speaker of the House of Commons, said he had no contact with the government about the plan, adding "If the reports that it is seeking to prorogue Parliament are confirmed, this move represents a constitutional outrage."
Political commentators in London said the timetable set out by Johnson will give MPs extremely little time to prevent a No Deal Brexit on Oct. 31.
It comes just 24 hours after Jeremy Corbyn, the leader of the main opposition Labour Party, met leaders of the main opposition parties at Westminster to agree to make joint efforts to win support in the House of Commons to block a no-deal Brexit.
MPs are currently on their summer holidays and will reassemble at Westminster next Tuesday when the recess ends. But then the procedure known as the prorogation of Parliament will be set in stone with the closure coming just a few days later.
Former Chancellor Philip Hammond, who resigned when Johnson was named as successor to Theresa May, said it would be a constitutional outrage if parliament were prevented from holding the government to account at a time of national crisis.
Former attorney general Dominic Grieve said in a radio interview Wednesday: "If the prime minister persists with this and doesn't back off, then I think the chances are that his administration will collapse."
The Conservative backbench MP added: "There is plenty of time to do that if necessary." He said he would vote to bring down a government led by his own party if Johnson persists in a course of action "which is so unconstitutional."
Tom Watson, deputy leader of the Labour Party, described Johnson's plan as "an utterly scandalous affront to our democracy."
Scotland's First Minister Nicola Sturgeon urged Westminster MPs to come together to stop the plan next week when they return to Parliament.
She said in a message on her social media site: "today will go down in history as a dark one indeed for UK democracy."