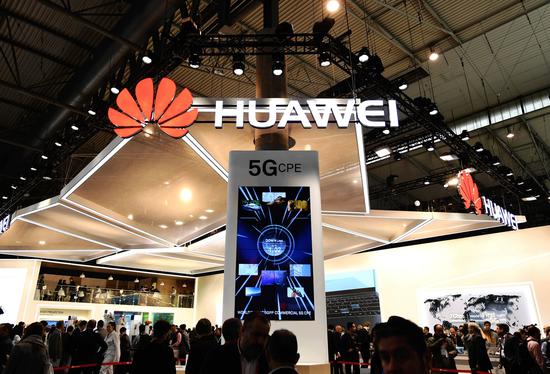 China's telecom giant Huawei displayed 5G technology at the 2018 Mobile World Congress in Barcelona, Spain, Feb. 26, 2018. (Xinhua/Guo Qiuda)
Chinese Ambassador to Uganda Zheng Zhuqiang on Tuesday said a smear campaign against Chinese enterprises must be seriously opposed.
Zheng was speaking at a competition event where local employees of Chinese enterprises exhibited their skill set.
The ambassador was speaking in reference to a Wall Street Journal article published earlier this month, alleging that Chinese telecom Huawei aided the Uganda and Zambia intelligence officers in spying on the opposition politicians.
"I must reiterate that the fake news from the Wall Street Journal recently, full of ridiculously fabricated stories, is utterly groundless, whose ulterior schemes are highly questionable. Such irresponsible smearing must be seriously opposed," Zheng said.
He said the Chinese government has always insisted on the principle of non-interference in each other's internal affairs, and urges Chinese enterprises to abide by laws and regulations when doing business overseas.
Regarding the Wall Street Journal report, both the Ugandan and Zambian government have dismissed them as "malicious" and "hogwash".
Huawei also refuted the report as unfounded, with inaccurate allegations against its business operations in Africa.
The multinational company said its code of business conduct prohibits any employees from undertaking activities that would compromise its customers or end users' data or privacy or that would breach any laws.
The Chinese envoy said China and Uganda have a long history of deep political mutual trust and fast-growing business cooperation.
He said over the years, China has supported Uganda to construct major infrastructure projects, such as Karuma Hydro Power Plant, Kampala-Entebbe Expressway, among others.
He noted that Chinese enterprises have fully engaged in the infrastructure projects, employing more than 80,000 local staff.
"Among them are not only the employees doing construction work, but also in the position of middle and top management. The industrial parks invested by Chinese entrepreneurs and enterprises also create tens of thousands of jobs in Uganda and will employ more local staff." he said.