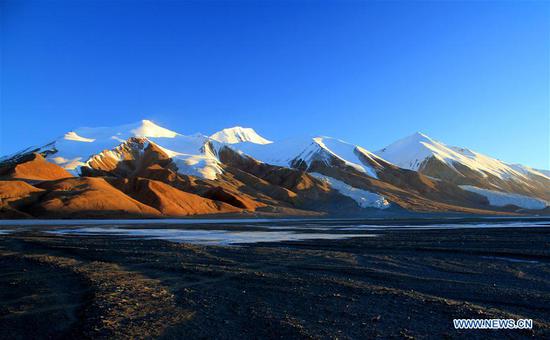 File photo shows snow mountains and rivers in Hoh Xil of northwest China's Qinghai Province. (Xinhua/Hoh Xil National Reserve Administration)
China Post Group and the Three-river-source National Park Administration jointly issued a set of special postcards featuring Hoh Xil, a national nature reserve in northwest China's Qinghai Province Tuesday.
A ceremony was held in the city of Xining, capital of Qinghai.
The set of six postcards were designed by stamp designer Wang Huming and has now been issued across the country.
The set includes images of the glaciers, rivers, lakes, grassland, animals and plants of Hoh Xil, and the image of plants was taken by a mobile phone, the first time that China Post has used a picture taken by a mobile phone as a postcard image.
"The special postcards will play an important role in publicizing Hoh Xil, which will help more people get to know Hoh Xil and the national park, as well as promote public participation in ecological protection," said Wang Enguang, deputy director of the provincial forestry and grassland bureau.
Hoh Xil is a region in the northwestern part of the Qinghai-Tibet Plateau. As the world's largest, highest and youngest plateau, it hosts many endemic species and is home to more than 230 species of wild animals, including the wild yak, wild donkey, white-lip deer, brown bear and the endangered Tibetan antelope.
The region was added to the world heritage list in July 2017.