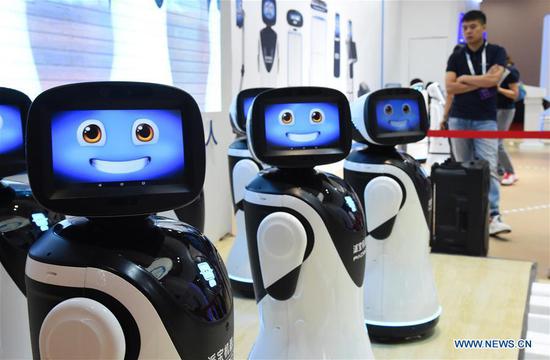 Photo taken on Aug. 20, 2019 shows robotic receptionists during the 2019 World Robot Conference in Daxing District of Beijing. (Xinhua/Ren Chao)
(ECNS) -- The global robot market is expected to reach $29.41 billion in 2019, with China contributing $8.68 billion, according to a report by the Chinese Institute of Electronics.
In China's market, the value of industrial robots, service robots, and special robots are expected to reach $5.73 billion, $2.2 billion, and $750 million, respectively.
Technological innovations center on bionic structures, artificial intelligence, and human-machine collaboration, said the report released during the ongoing 2019 World Robot Conference in Beijing.
The global robot market from 2014 to 2019 experienced an average annual growth rate of approximately 12.3 percent, with 20.9 percent in China during the same period.
The Chinese robot market has entered a period of rapid growth, while its market for industrial robots has ranked first in the world for seven consecutive years.
The localization process of core robot components has been accelerating, and a large number of innovative enterprises have emerged in China, accumulating industrial strengths, the report said.
Various cutting-edge robotic technologies and products are on display at the 2019 World Robot Conference, held from August 20 to 25.