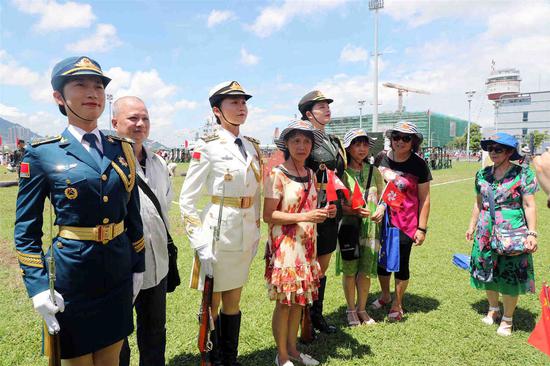 Civilians pose for photos with female service members during an event hosted by the People's Liberation Army Hong Kong Garrison on Monday. The two-­day event, which began on Sunday, is part of celebrations marking Hong Kong's return 22 years ago. (Photo: China News Service/Hong Shaokui)
Chief executive vows greater progress on economy, livelihoods
Carrie Lam Cheng Yuet-ngor, chief executive of the Hong Kong Special Administrative Region, vowed to get the city off to a new start by making greater efforts to develop its economy and improve people's livelihoods.
Lam made the remark while delivering a keynote speech on Monday at a reception to celebrate the 22nd anniversary of the establishment of the HKSAR.
Thanks to the "one country, two systems" principle, Hong Kong has achieved remarkable economic and social development while remaining one of the freest economies in the world, she said.
"Backed by the motherland and open to the world, Hong Kong has continued to leverage its unique advantages under 'one country, two systems'," Lam said.
Looking forward, Lam said the government will further improve education and healthcare, provide more opportunities for young people and increase social services, as well as address the most challenging housing problems.
She also pledged to improve the government's future work by making it more "open and accommodating" and engage more actively with people from all walks of life.
"We will continue to listen to the community's views and make continuous improvements in our work," Lam said.
A festive atmosphere enveloped Hong Kong on Monday as people from different backgrounds joined various activities to celebrate the anniversary.
The Greater Bay Festival, a three-day gala with high-tech features and music that started on Saturday, had attracted more than 180,000 people as of noon on Monday, according to organizers. Celebrators pieced out "I love HK" characters to show their love for the city.
Around 15,000 visitors, mostly teenagers and children, enjoyed a field day at the People's Liberation Army Hong Kong Garrison, with a rare taste of military exercises and the daily lives of those in uniform.
Businesspeople and young entrepreneurs are upbeat on Hong Kong's future, saying the city will continue to enjoy benefits brought by national development, especially with the construction of the Guangdong-Hong Kong-Macao Greater Bay Area.
"Overall, in the medium term, the Bay Area project should boost Hong Kong's growth through cross-border businesses, deeper infrastructure networks, increased demand from the mainland and better labor mobility," said Chen Jingyang, an economist at HSBC.
Kendall Lo, CEO and co-founder of Kazoo Technology, a Hong Kong technology startup, said the Chinese mainland presents huge growth opportunities for Hong Kong's small and medium-sized enterprises.
"We have been able to locate new manufacturing partners not just in Shenzhen and across the Pearl River Delta region, but also farther up north where the cost of production is even lower than in the southern coastal cities. This benefits small and medium-sized enterprises like us quite a lot," Lo said.
Also on Monday, a large number of protestors took to the streets to march against the government's suspended extradition amendment bill. Some clashed with police as they stormed into the Legislative Council.
The HKSAR government strongly condemned the acts and expressed deep regret over the violence. A government spokesperson said Hong Kong is a society that respects the rule of law and has never tolerated violence.
People participate in an event at Victoria Park in Causeway Bay, Hong Kong, on Monday to celebrate the 22nd anniversary of Hong Kong's return to the motherland.