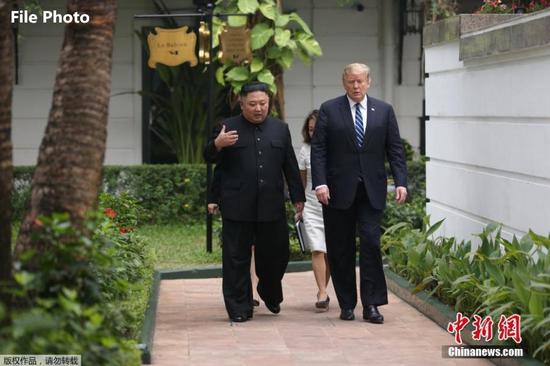 U.S. President Donald Trump and DPRK top leader Kim Jong-un take a walk after their one-on-one talk at the Sofitel Legend Metropole Hanoi hotel, Feb. 28, 2019, in Hanoi.(Photo/Agencies)
The Democratic People's Republic of Korea (DPRK) leader Kim Jong Un has expressed a willingness to hold a third summit with U.S. President Donald Trump, the Korean Central News Agency (KCNA) reported Saturday.
He made the remarks in a speech on the second day of the 14th Supreme People's Assembly meeting on Friday, according to the KCNA.
Kim also said his relations with Trump remain excellent and he will wait patiently "until the end of this year" for Washington to make "courageous" decisions in negotiations between the two countries.
Trump and Kim have met twice, in Hanoi in February and Singapore in June, building goodwill but failing to agree on a deal to lift sanctions in exchange for the DPRK abandoning its nuclear and missile programs.
Trump on Thursday said during a summit with Republic of Korea President Moon Jae-in that he is open to a third summit with the DPRK leader.