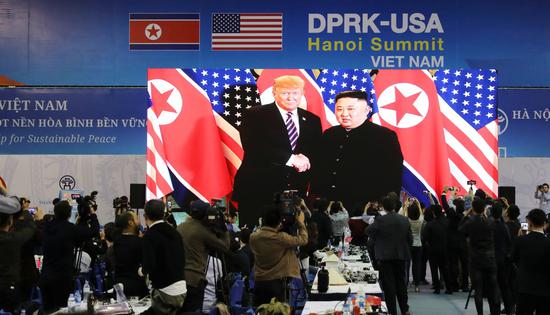 Special: Second Kim-Trump Summit
China hopes the Democratic People's Republic of Korea (DPRK) and the United States will continue to maintain and conduct dialogue, a foreign ministry spokesperson said Thursday.
Commenting on the second DPRK-U.S. summit in Hanoi, Vietnam, spokesperson Lu Kang told a daily news briefing that the situation on the Korean peninsula has seen a major turnaround over the past year, and the Korean Peninsula issue has returned to the right track of political settlement. Such a result is hard won and should be cherished.
He said the development and change of the Korean Peninsula situation over the past few decades indicate that dialogue and consultation are the only way to resolve the issue.
China hopes the DPRK and the United States will continue to have dialogue, show sincerity to each other, respect and accommodate each other's legitimate concerns, and jointly promote the denuclearization and the establishment of a peace mechanism on the Korean Peninsula, Lu said.
He promised that China will continue to play a constructive role.