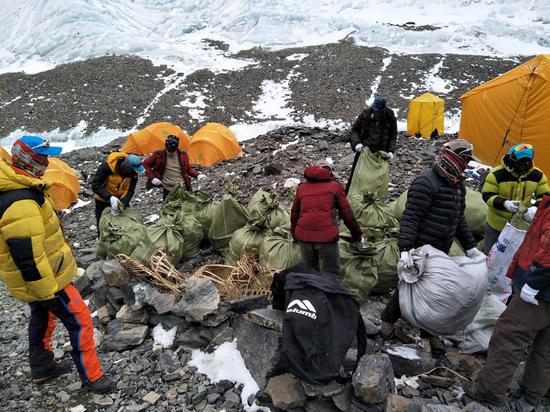 Members of the environmental squad collect trash at base camp on the north face of Qomolangma. (File photo)
(ECNS) -- Authorities have introduced a slew of measures to clean up the world's highest peak Qomolangma, Ministry of Ecology and Environment spokesperson Liu Youbin said on Thursday.
The measures included strengthening daily inspection of the Qomolangma nature reserve, regulating the environment at tourist attractions in areas below the elevation of 5,200 meters and also a task force to regularly clean up trash left by visitors.
Other measures include offering new garbage bins, building environmentally friendly toilets and providing portable toilets for each mountaineering team, said Liu.
Liu also said the Tibet Autonomous Region's decision to ban tourism in the core area of Mount Qomolangma is in accordance with the law and an effective measure to preserve the environment.
Covering an area of around 33,800 square km including a 10,312-square km core zone, the reserve is home to one of the world's most vulnerable ecosystems.