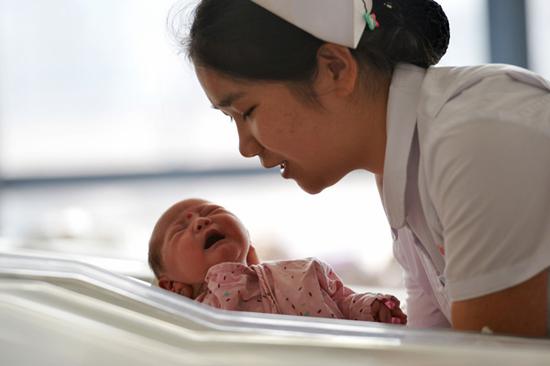 A nurse takes care of a newborn baby at Gansu Provincial Maternity and Childcare Hospital in Lanzhou. (Photo/Xinhua)
China should not abolish family planning at the moment, the top health authority said in response to a suggestion from a legislator.
All laws about population and family planning in China were made based on the Constitution which endorses implementation of the family planning policy, so it is not proper to immediately remove all articles concerning family planning from existing laws, the National Health Commission said in a statement posted on its website.
The statement was made in response to a suggestion from a deputy of the National People's Congress. The deputy was not named in the statement. The deputy suggested the NPC to remove all content about family planning from existing laws.
China has made adjustments to its family planning policy since the beginning of the 21st century in response to major population changes. The commission also said it will work with related departments to propose plans to solve population problems in the new era to promote balanced development of the population, while taking into consideration of all factors including population size, quality, structure, and distribution.
Official figures show that China's birth rate has been declining for two consecutive years, even with the implementation of the second-child policy in 2016. The policy allows all couples in China to have two children. Continual low birth rate could lead to issues such as an aging population and dwindling workforce, and many experts have called for the family planning policy to be less strict in recent years.