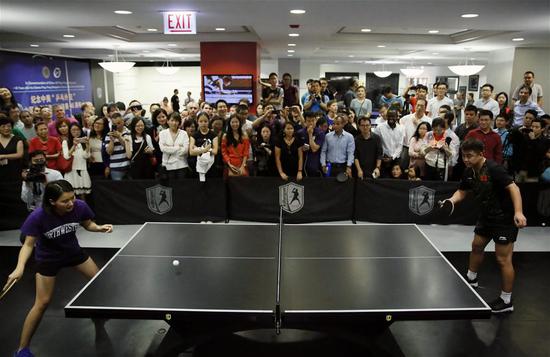 Photo taken on Sept. 16, 2017 shows Chinese table tennis player Wang Hao (front R) playing with ping-pong fans at a club in Chicago, the United States. (Xinhua/Wang Ping)
As a saying from The Analects of Confucius goes, "At forty, I no longer suffered from perplexities."
Forty years ago on Jan. 1, 1979, China and the United States established formal diplomatic relations. It not only ended the isolation and confrontation between the two countries, but also changed the political and economic arrangement of the Asia-Pacific region as well as the world, and imposed a far-reaching impact on international relations and world development.
Although China and the United States have not always witnessed smooth sailing on the development path of the relations, the two major countries have still seen huge achievements in their relationship during the past four decades.
"The most important experience gained by the two sides in the past 40 years is that only through cooperation can a win-win situation be attained, and confrontation will certainly lead to a lose-lose scenario," said Chinese State Councilor and Foreign Minister Wang Yi when summing up the lessons and experience of the development of the bilateral ties over the past 40 years.
Looking forward to the next 40 years, the world is eager to see how China and the United States will strengthen their mutual trust and develop their relations.
WIN-WIN COOPERATION
On November 8, 2018, Chinese President Xi Jinping met with former U.S. Secretary of State Henry Kissinger in Beijing. During their meeting, Xi applauded the "historic contribution" that Kissinger had made to China-U.S. relations.
"We will not forget that," Xi told Kissinger.
In July 1971, Kissinger, as national security advisor to then-U.S. President Richard Nixon, secretly flew to Beijing from Pakistan. His visit paved the way for the groundbreaking visit to China by Nixon in 1972.
At that time, the connection between China and the United States relied on channels provided by other countries. As time passed, the two countries have now achieved frequent high-level exchanges with more than 100 bilateral dialogue mechanisms, covering almost every aspect of bilateral exchanges.
Today, Chinese symbols like the giant panda and the terracotta warriors are becoming household names in the United States. Hollywood blockbusters have also brought joy and excitement to Chinese audiences. For basketball fans of both countries, Michael Jordan and Yao Ming are two common names spoken in both languages.
"We have far greater common interests than differences and disagreements," said Chinese Ambassador to the United States Cui Tiankai.
As the "ballast stone for bilateral ties," fruitful economic and trade cooperation tells the developing trend and level of China-U.S. relations most visibly.
In the eyes of global aviation industry leaders, China's continuous opening up made it "the world's most exciting market and important player."
Boeing had taken 40 years to deliver its 1,000th aircraft to China in 2013. And only five years later, the company delivered the 2,000th to the Chinese market, said John Bruns, president of Boeing China.
Last December, Boeing's 737 Completion and Delivery Center in Zhoushan, a coastal city in eastern China's Zhejiang Province, delivered its first 737 aircraft -- Boeing's first-ever delivery of an aircraft at an overseas site.