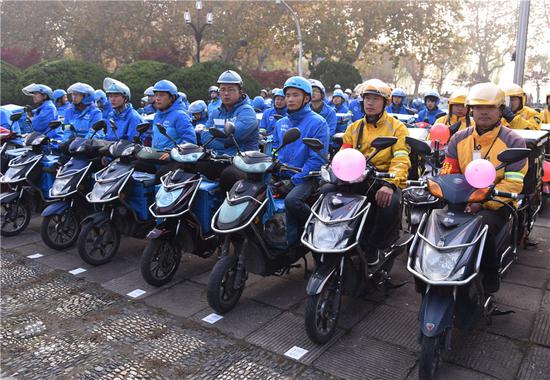 Food couriers gather to advocate better traffic safety in Hangzhou, Zhejiang province, in November. (Lian Guoqing/For China Daily)
China's booming on-demand services market has created millions of delivery job opportunities for migrant workers from rural areas, whose quick work has become indispensable in urban life.
Despite long working hours and intense deadlines, delivery jobs have allowed many to settle in cities and earn a decent salary to support their families, according to two recent reports released by the country's two leading services.
In its 2018 Insight Report on Deliverymen released on Friday, Fengniao Delivery-which is owned by internet giant Alibaba Group and is responsible for its online-to-offline, or O2O, delivery services, including its food catering arm Ele.me-said 84 percent of its 3 million registered delivery drivers come from rural areas.
Meituan, which accounted for 41 percent of China's food delivery market in the first quarter of 2018, compared with Ele.me's 55 percent, released a similar report in May. The report, based on a survey on Meituan's more than 38,000 registered delivery drivers, said more than three-quarters of the company's nearly 2.3 million registered delivery riders have rural origins.
While Anhui province tops the hometown list of couriers registered with both companies, Henan and Sichuan provinces are also major sources of the delivery workforce at Meituan.
The report from Fengniao shows the average driver to be 29 years old; the report from Meituan said that more than 80 percent of its riders were born in the 1980s and 1990s. Each driver, or rider, delivers 48 orders per day on average, racking up a total distance of 150 kilometers, the reports said.
Despite long working hours and intense deadlines at peak hours, the couriers are attracted to the city by the flexible working hours, low entry requirements and relatively high pay.
Both reports said most delivery drivers earn 4,000 to 8,000 yuan ($584 to $1,168) per month, outstripping the 2017 average monthly salary of employees in the domestic private sector, which was 3,813 yuan.
While males still dominate in the delivery service, more females-accounting for around 10 percent-are joining in as a part-time job, the reports said.
The work attracts well-educated people, too, with both companies saying 16 to 20 percent of their registered deliverymen have a bachelor or associate degree.
Unlike the previous generation of migrant workers, these deliverymen tend to settle in a city for many years partly because their service has become embedded in urban life. More than half of Meituan's drivers said they have been living in the city where they currently work for more than nine years.
According to Chinese research firm iiMedia Research, instant delivery in the first three quarters of 2018 exceeded 15.3 billion orders, more than double the 6.3 billion in the same period of 2017. Analysts from iiMedia Research believe the demand for instant delivery services will continue to expand.
Chen Longjun, from the Xinjiang Uygur autonomous region, has been a deliveryman in Shanghai for more than three years. He's been dubbed "order delivery king" for delivering an average of 100 orders per day. He earns 30,000 yuan per month.
Chen, 31, said he works 15 hours per day but still appreciates the job since it helps him afford an 80-square-meter apartment in Jiashan, Zhejiang province.
"Good traffic facilities and conditions are the reasons for me to deliver in Shanghai," Chen said.
"We bear a lot of burdens when we have fewer orders, especially in harsh weather conditions or during emergencies, but the job allows me to make friends and, more importantly, to improve my economic condition."