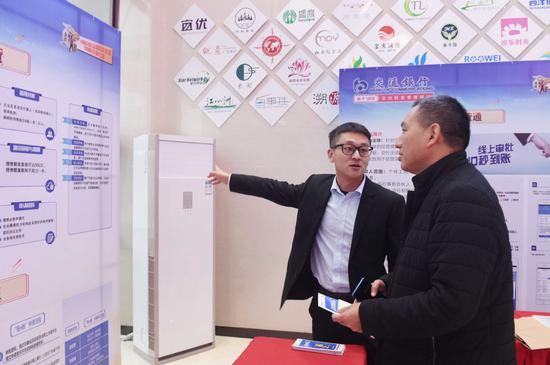 A bank employee introduces loan policies to an entrepreneur at a matchmaking event for banks to provide finance to smaller companies in Tongling, Anhui province. (Photo/for China Daily by Guo Shining)
Central bank lowers credit evaluation standards for financial institutions
China is taking further steps to improve capital injection channels, through easing liquidity and encouraging credit especially for small and micro companies, to spur the economy in the first quarter.
Additional liquidity easing in the financial system, expected by many analysts, will also support local governments' 2019 financing plans, which mainly rely on a speeding up of bond issuance.
Bank lending and bond financing could strengthen corporate and government investment-the priority of Chinese policymakers in the first three months-to offset economic growth weakness. That requires some "unconventional tools" to prevent a liquidity squeeze, they said.
China's central bank, the People's Bank of China, took action late on Wednesday to lower the credit evaluation standards for financial institutions. The measure will allow more of them to deposit less funds in the central bank as reserve requirements, according to a statement on the PBOC's website.
"That will help the preferentially targeted reserve requirement ratios (RRR) cut cover more financial institutions, encouraging them to serve more small and micro firms," it said.
The new measure is more like a structural tool. And its major function is to encourage commercial banks' leading to small and micro companies, which are usually in high demand of credit, according to analysts.
The move, which took effect immediately, could free up more than 700 billion yuan ($101.86 billion), to supplement a base money shortage of 4 trillion yuan before the Spring Festival (starting from Feb 5), as some brokers assessed.
Accelerating local government bond issuance, which is already in the pipeline, will also require liquidity supplement for commercial banks, as the largest holder of the bonds, said Ming Ming, an economist with the CITIC Securities.
China's legislature adopted a decision on Saturday to speed up local government bond issuance before the approval of the annual fiscal budget.
The State Council can assign 1.39 trillion yuan worth of bonds to local governments before the new quotas are announced in March.
Additional monetary policy operations are needed in January, including another RRR cut and some innovative tools, said Ming.
The central bank cut the RRR four times in 2018, and the ratios for large banks decreased by 2.5 percentage points to 13-14.5 percent.
"RRR is still one of the most important and effective instruments to manage liquidity, and a key channel in money creation process especially with the reversal in foreign exchange reserve dynamics," Zhu Haibin, JPMorgan chief China economist and head of China equity strategy, told China Daily.
Tighter credit conditions, which could be a result of a decline in shadow banking financing, should be prevented, especially when economic growth weakens, said Zhu. "But we can see bank loan growth has been stable in the recent months and bond financing is improving."
The country's regulatory crackdown on shadow banking activities, which intensified from mid-2016, led to unintended consequences that banks are more willing to lend to State-owned enterprises rather than to riskier micro and small ones.
In the first three quarters of last year, total new loans to micro and small companies stood at 1.48 trillion yuan, which only took up 22.4 percent of the total growth in corporate loans. The share slightly increased from 20.9 percent by the first half of 2018, the lowest level since the data first became available in 2012, according to the PBOC.
A "more accommodative" monetary policy will coordinate with a "more proactive" fiscal policy this year, to counter downward pressure on economic growth, said George Xu, an analyst with international ratings agency Moody's.
"We expect overall credit growth to stabilize, with stronger bank lending to maintain robust GDP growth amid uncertainties surrounding the external environment," said Xu.