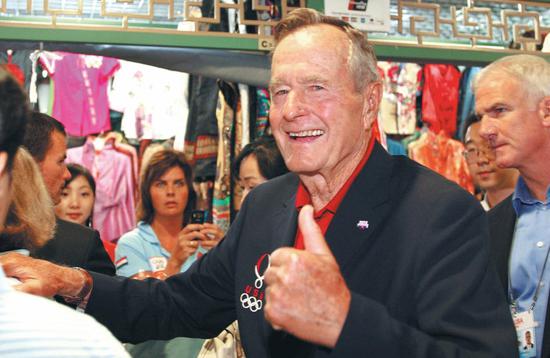 George H. W. Bush and his wife Barbara shop at Beijing's Silk Market in 2008. HUO YAN / CHINA DAILY
Time spent in the country played key role in friendship
On Oct 21, 1974, George H.W. Bush, along with his wife Barbara, was in Tokyo on his way to China, where he was to start his job as head of the United States Liaison Office in Beijing.
They were briefed that evening by Nicholas Platt, who had finished his job as head of the office's political section early that year to work at the U.S. embassy in Japan.
The Bushes wanted to know everything about morale among staff members in Beijing and what they could do to make people comfortable. Platt told them that he and his colleagues felt somewhat isolated because their only contact with ordinary Chinese came when they rode their bicycles around on the streets.
When they parted that night, Bush asked Platt what was the first thing he should do when he arrived in China. " 'Buy a bike,' I replied, and he did," Platt said.
Photos that have appeared of the Bushes riding bicycles in Beijing in the mid-1970s are among the most iconic of those published in the wake of the 41st U.S. president's death. Bush died on Friday at the age of 94.
Platt, who later became U.S. ambassador to the Philippines, Pakistan and Zambia and served as president of the New York-based Asia Society, said the photo of Bush on a bicycle set the tone for his mission and endeared him to the Chinese people.
"His service as chief of our liaison office led to career-long support for U.S.-China relations," he said.
After arriving in Beijing, the Bushes did not use their chauffeured car that much, choosing instead to often join the throng of cyclists in the Chinese capital. They thought cycling around the city was the best way to make contact with the people and understand society. To them, everything they encountered was absorbing and exciting.
The story told by Platt was recorded in Bush's diary on Oct 21, 1974. The China Diary of George H. W. Bush: The Making of a Global President by Jeffrey Engel and Bush was published in May 2008.
The Bushes quickly became known as "bicycle-riding envoys". Jon Meacham, a presidential biographer, described in the 2015 book Destiny and Power: The American Odyssey of George Herbert Walker Bush that the head of the envoy's official residence, Mr. Wong, told Bush that both he and Barbara were known, fondly, as "Busher, who ride the bicycle, just as the Chinese do".
Kenneth Jarrett, president of the American Chamber of Commerce in Shanghai and former U.S. consul general in the city, said that many Chinese are familiar with the photograph of the Bushes on their bicycles in Beijing. "That picture captures the special tie that Bush had with China — the only president to have lived and worked in this country," he said.
Jarrett, who served as a diplomat for 26 years, said Bush had an intense interest in China and a keen understanding of the importance of the U.S. and China working together.
He met with Bush many times, but the most memorable encounter was when he joined him in March 2008 in Shanghai for the drive back to the hotel where the former president and Barbara Bush were staying.
It was a long ride and Bush used every minute to ask Jarrett questions, ranging from China's domestic politics to its economy and relations with the U.S..
"His passion for the topics was extraordinary. Responding to his questions was a challenge, as he was still quite well informed," Jarrett said on Monday.
"Even at the age of 84, China was as vital a topic for him as one could imagine."
Craving change
In the preface to the published diaries, Bush described the decision to go to China in 1974 as one "that not only profoundly changed my life, but would forever change my view of the world, particularly of the land then called 'The Sleeping Giant'".
At that time, Richard Nixon had just resigned as U.S. president due to the Watergate scandal, and Bush was eager to leave his job as chairman of the Republican National Committee.
"Never in our lives, before or since, have Barbara and I craved change more. We wanted out of Washington and as far away as possible from the ugliness of Watergate. We also wanted both a new adventure and a new challenge," Bush wrote.
When then-president Gerald Ford asked him to choose between an ambassadorship either to London or Paris, Bush said he shocked Ford and his own family when he asked if he could go to China.
"The look I got was reminiscent of 1948, when I broke the news to friends and family that I had turned down a job on Wall Street and that Barbara and I were moving to West Texas," he wrote, referring to the decision he made after graduating from Yale University that year with a Bachelor of Arts in economics.
To Bush, the reasoning was quite simple — it was obvious then that Asia would rise in importance on the world scene. And it was inevitable that China would eventually become a power broker, not only in the Pacific but in the world. China was, quite simply, the place to be.
Meacham's book had a somewhat different account. Bush was going to China after being turned down by Ford for other higher positions such as vice-president, commerce secretary and White House chief of staff.
However, Meacham described the China experience as "an honors class in diplomacy and politics for Bush, an education in the realities of subtlety, respect and indirection so often fundamental to relations between nations".
"In Congress and at the United Nations, Bush had learned that diplomacy required personal connection. In Beijing, he learned that it also required persistence and patience — particularly patience, which was not his strong suit," Meacham wrote.
"The man who came to China liked action, movement, phone calls, results. The man who left China understood that diplomacy was a long game and that change could come rapidly or glacially depending on the circumstances of a given country and given situation," Meacham added.
Engel echoed the view in his book, saying that Bush's time in China played a central role in his diplomatic education.