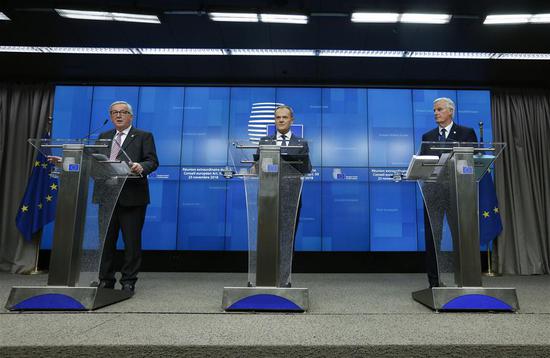 European Commission President Jean-Claude Juncker, President of the European Council Donald Tusk and the European Union's (EU) chief negotiator Michel Barnier (from L to R) attend a press conference at the end of a special Brexit summit in Brussels, Belgium, Nov. 25, 2018. (Xinhua/Ye Pingfan)
The deal that will see Britain ending its membership of the European Union (EU) was approved in Brussels Sunday at a special summit of the European Council.
There was a stark message from Jean-Claude Juncker, President of the European Commission, to British politicians who have threatened to reject the deal.
He said: "Those who think that by rejecting this deal will have a better deal will be disappointed within seconds the rejection of this deal."
Juncker described Britain's decision to leave the EU as a sad moment and a tragedy, but he added that he did not think Britain would be a third country (non-EU member) like any other third country.
EU Council President Donald Tusk added: "This is the only deal possible."
Leaders of EU member states backed both the 585-page withdrawal agreement setting out the terms of Britain's exit from the bloc, as well as the political declaration detailing what the UK-EU relationship may be like after Brexit.
The first confirmation of the decision in Brussels came in a one-sentence social media message from the President of the EU Council, Donald Tusk. He simply said: "EU27 has endorsed the Withdrawal Agreement and Political Declaration on the future of EU-UK declarations."
The stage is set for Britain to end its membership after 45 years on March 29 next year, though the following day an implementation period will start meaning there will be no changes until the end of 2020.
At the Brussels' press conference Tusk said the EU and Britain would remain friends until the end of days, and one day longer.
He added: "Ahead of us is the difficult process of ratification as well as further negotiation."
Michel Barnier, the EU's chief Brexit negotiator, said at the conference: "Now is the time for everyone to take responsibility."
There was immediate reaction from opponents of the deal, indicating that British Prime Minister Theresa May will struggle to win vital backing for today's deal when the British House of Commons has its say around Dec. 10. That decision could see Britain crashing out of the EU next March with no deal.
Opposition members of parliament, as well as MPs from May's own Conservative Party have threatened to reject the deal.
May, speaking at a media conference, said today's decision marks the culmination of talks with the EU, but also the start of a crucial national debate.
MPs in Britain, she added, will vote whether to support the deal before Christmas.
Asked if she had a plan B if the deal is rejected by MPs, May said EU leaders had said this was the only possible deal.
"It's not the case that there is another negotiation to be done. This is the deal that's been agreed, it's the only deal that's on the table," May said.
May would not be drawn when asked by several journalists if she would resign as prime minister if the House of Commons rejected her deal.
Keir Starmer, Brexit spokesman for Britain's main opposition Labour Party, said: This is a bad deal for our country. It's a failure of negotiation by a Prime Minister who has spent more time arguing with her party than working in the national interest. The result is a deal that no-one supports. Labour will vote against it."
Nigel Dodds, deputy leader of Northern Ireland's Democratic Unionist Party (DUP), described May's proposals as worse than no deal, and worse than staying in the EU.
May relies on the 10 DUP votes at Westminster to give her minority government its slender majority.
Dodds said in a BBC radio interview: "The government is going to spend the next fortnight engaged in all sorts of project fear initiatives in order to try to get MPs to vote for something that is clearly unsatisfactory."
He added the DUP would not be bought off, saying there is absolutely no way the deal can go through.
In an attempt to win public support for the deal Britain's main national Sunday newspapers published a direct plea from May to the British public.
May said in her letter: "It will be a deal that is in our national interest, one that works for our whole country and all of our people, whether you voted 'Leave' or 'Remain'," adding it will honor the result of the 2016 referendum when British people voted by a 52-48 margin to leave the EU.
Foreign Secretary Jeremy Hunt, in a London television interview, described the deal as a compromise, saying it was not perfect, but it could be a staging post to a situation giving Britain 100 percent of what it wants.
Britain's mainland Europe neighbors lamented the departure. Germany's Chancellor Angela Merkel said: "This is a historical day, which leaves mixed feelings. It's tragic that the UK is leaving the European Union."
Merkel refused to be drawn on the consequences of the deal being rejected by the British parliament.
May will get a sense of Westminster politicians Monday when she addresses the House of Commons.
Conservative party managers hope that enough MPs will rally around May to ensure the parliamentary green light is given.