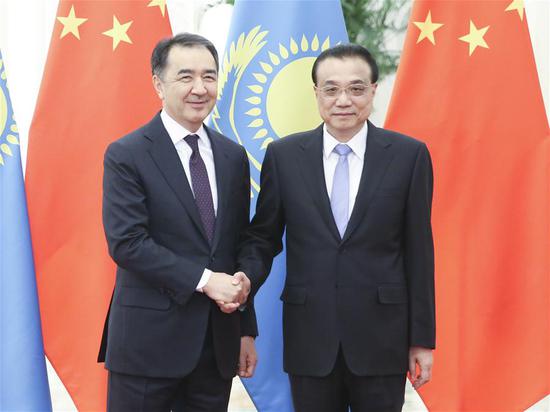 Chinese Premier Li Keqiang and his Kazakh counterpart Bakytzhan Sagintayev hold the fourth regular meeting between the Chinese premier and the Kazakh prime minister in Beijing, capital of China, Nov. 22, 2018. (Xinhua/Yao Dawei)
Premier Li Keqiang on Thursday said China is willing to better dovetail its Belt and Road Initiative with Kazakhstan's development strategy to benefit the two peoples.
During the fourth regular meeting between the Chinese premier and the Kazakh prime minister in Beijing, Li told his Kazakh counterpart Bakytzhan Sagintayev that China will also work to translate the two countries' high-level mutual trust and the will to cooperate into substantial results.
Li said China and Kazakhstan would sign various cooperation documents covering areas such as industrial capacity, investment and digital economy during the regular meeting.
China is willing to join hands with Kazakhstan to promote cooperation in major areas, stabilize and expand energy cooperation, and amplify other cooperation in emerging areas. The two sides will also accelerate negotiation on the signing of an investment protection agreement to supply legal safeguards to mutual investment and cooperation, according to Li.
Culture, youth and tourism exchanges will be promoted with more convenience provided to people-to-people exchange, to consolidate the foundation of public opinion for the bilateral relations.
"The two sides should strengthen coordination and cooperation under multilateral frameworks such as the Shanghai Cooperation Organization to maintain multilateralism and free trade regime and safeguard the peace, stability and development of the region," Li said.
Sagintayev said Kazakhstan is willing to strengthen the alignment of its Bright Path economic policy with the Belt and Road Initiative, and deepen cooperation with China in such areas as trade, investment, capacity, agriculture and energy, as well as advancing personnel training and exchange of experience to usher in a new stage of bilateral relations.
Li and Sagintayev witnessed the signing of bilateral cooperation documents after the meeting.