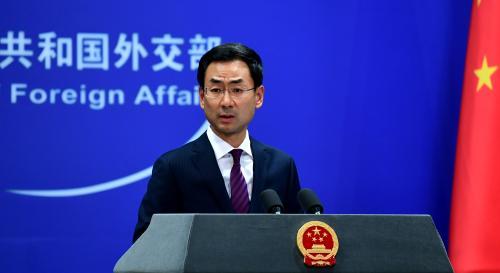 Foreign Ministry spokesman Geng Shuang speaks at a news briefing in Beijing. (Photo/China News Service)
A threat by a key adviser to U.S. President Donald Trump to evict China from the World Trade Organization was dismissed as "talking nonsense" by the Foreign Ministry on Thursday.
"The WTO is a multilateral organization and is not owned by the United States," Foreign Ministry spokesman Geng Shuang said at a news briefing in Beijing, noting that the comment "fully exposed Washington's bullying and the mentality of self-conceit".
Geng's remarks came after Kevin Hassett, chairman of Trump's Council of Economic Advisers, said in an interview that China had "misbehaved" as a member of the WTO. He suggested that a case could be made for evicting China from the organization.
Geng said the U.S. has recently withdrawn from organizations such as the United Nations Educational Scientific and Cultural Organization and a series of international instruments such as the Trans-Pacific Partnership Agreement and the Paris Agreement on climate change.
"If my memory does not fail, the U.S. even threatened earlier to withdraw from the WTO. But now it hinted about evicting China from it in the name of reforming the organization. How ridiculous," Geng said.
He also said that differences between WTO members can be solved through negotiations and coordination, but it is dangerous to think so easily of expelling others.
China is the world's largest trader of goods as well as the second-largest economy.
"Who will be next if the U.S. dares to hint at evicting China from the WTO," Geng said.
He added that China has been fulfilling its duty since joining the organization and has won praise from various parties, including the WTO secretary-general, for its support for the multilateral trading system and its rising role in the organization.
In another development, Zhang Xiangchen, China's ambassador to the WTO, said on Tuesday that the WTO is a public good, not a tool for meeting the needs of particular members.
"The direction of reforms for the WTO should be to fight against unilateralism and protectionism. The reforms have to push for worldwide trade liberalization and investment facilitation," he was quoted by Xinhua News Agency as saying.