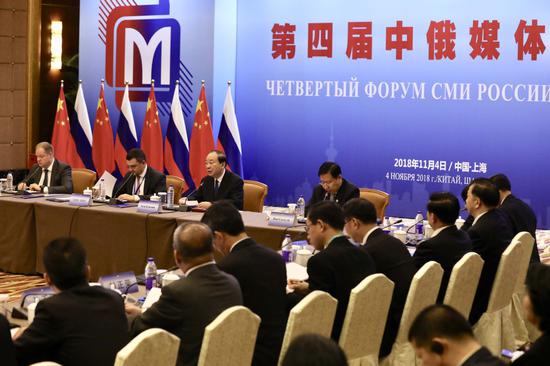 Chinese and Russian media outlets should focus more on aligning the Belt and Road Initiative and the Eurasian Economic Union to forge even closer connections between their peoples, a senior Communist Party of China official said on Sunday.
In the keynote speech delivered at the Fourth China-Russia Media Forum held in Shanghai, Huang Kunming, a member of the Political Bureau of the CPC Central Committee, urged the media to further promote cultural exchanges and mutual learning between China and Russia.
Huang, also head of the Publicity Department of the CPC Central Committee, said media from the two countries should enhance relations and offer comprehensive, objective and truthful coverage of events in both nations.
Huang said that Sino-Russian comprehensive strategic coordination is at a high level, which also sets an example for win-win cooperation for major countries, neighboring states and emerging economies.
China's adherence to a path of peaceful development and its lasting prosperity and development will definitely provide an even stronger impetus for China-Russia ties to make steady steps forward, he said.
Huang added that the media forum has become an important institutional platform for news outlets from both sides to deepen cooperation and enhance friendship.
Maxim Akimov, deputy prime minister of Russia, said at the forum that media outlets from China and Russia can work together to better respond to opportunities and challenges presented by the digital technology.
He said he believes the two countries can explore the making of a cooperation plan in digital media as part of efforts to create a more enabling environment for digital media in both countries.
Xu Lin, minister of the State Council Information Office, said media from both nations should be encouraged to further their coverage on hot issues, cultural phenomena, literature, art and exchanges at local levels.
Coverage on topics of interest to youth, such as innovation, entrepreneurship and the sharing economy, can also be stepped up, he said, adding the two countries can also expand cooperation in filmmaking and animated movies.
Alexey Volin, Russia's deputy minister for telecom and mass communications, said three channels of China Central Television will be able to join cable TV networks in Russia as part of agreements reached between the two countries at the forum.