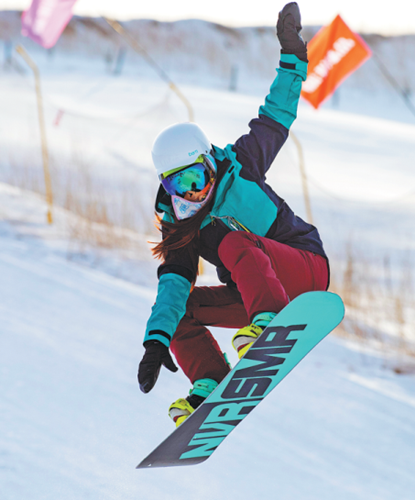 A ski resort in Xinyuan county, Xinjiang, attracted 6,500 tourists on just one day in February. (QIN JIE/FOR CHINA DAILY)
Nation attracting both local and overseas skiers
For 30-something business consultant Jeff Oliveira, winter vacations mean hitting the slopes of the Altay Mountains in the Xinjiang Uygur autonomous region.
Unlike the French Alps or Aspen in Colorado, United States, the area in northwestern China is hardly known, even among avid skiers.
Oliveira, founder of research and consultancy company skiChina, grew up skiing in his hometown of Boston and elsewhere in North America. But he would rather spend the winter season in Xinjiang than at other popular ski destinations.
"People like myself want that novelty of skiing in a place that's off the radar of the international skiing community," he said.
However, the novelty factor is just part of Xinjiang's allure. Oliveira keeps returning to the region every year, as he likes its "world-class terrain and snow". He is organizing a group tour next month, bringing skiers from North America to explore remote areas of Xinjiang.
But the region is just one of several Chinese destinations attracting both local and foreign skiers, with a Beijing think tank expecting more tourist arrivals spurred by China hosting the 2022 Winter Olympics.
The China Tourism Academy expects visitor numbers to rise to 340 million in the 2021-22 winter season, up from about 170 million in 2016-17, according to Xinhua News Agency.
The academy also forecast that winter tourism revenues would rise from about 270 billion yuan ($39 billion) in 2016-17 to 670 billion yuan in 2021-22.
By then, the winter tourism boom will be associated with a combined value of 2.88 trillion yuan in tourism and other sectors, Xinhua said.
Meanwhile, a report in January by tech giant Tencent and internet consultancy Analysys estimated that tourism related to winter sports activities will generate 40 billion yuan in revenue by 2020.
Gino Andreetta, CEO of Club Med Greater China, said hosting the Winter Olympics in 2022 will increase tourist interest in the country.
Global vacation resort chain Club Med's Asia-Pacific snow holiday report said China has joined Japan, South Korea and Switzerland as a top snow-break destination for Asian travelers.
On the radar
Released in September, the study was based on surveys of more than 5,000 respondents in the Asia-Pacific region and covered travel made during the past three years.
Andreetta said most tourists surveyed who traveled to China for winter vacations came from nearby countries such as Malaysia, Thailand and South Korea. Most of them were affluent millennials who spend the majority of their leisure time skiing and snowboarding.
"China is now very much on the radar of the regional snow holidaymaker and (becoming) an emerging future powerhouse for winter holidays," he said.
In 2015, China won the bid to host the Winter Olympics, making Beijing the first city in the world to host both the Summer and Winter Games. This spurred the launch of a winter sports development plan that aims to build 650 skating rinks and 800 ski resorts by 2022.
However, hosting the Winter Games is just the latest initiative to attract winter tourism dollars. Several of the country's northern provinces have cold, snowy winters that have been attracting visitors for years, especially those from tropical countries in Southeast Asia and the Pacific.
One of the most popular winter destinations is Heilongjiang province in Northeast China, the country's coldest region, with temperatures dropping as low as-50 C and the winter season lasting eight months.
This weather appeals to tourists, both domestic and foreign. The town of Yabuli, home to China's largest ski resort, hosted the 1996 Asian Winter Games and the 2008 National Winter Games. The Yabuli Ski Resort has 46 ski runs that extend for a total of 88 kilometers and can accommodate both novice and more-experienced skiers.
Heilongjiang's main winter attraction is its capital. Harbin, also known as the "ice city", has lured millions of tourists over the past three decades, enticed by the massive and colorfully lit ice sculptures that decorate its streets during winter. These sculptures are part of the city's annual ice and snow festival, established in 1985.
Last year alone, the festival attracted 18 million visitors and raked in 28.7 billion yuan in tourism revenue for Harbin, according to the Associated Press.
Jilin, another northeastern province, has emerged as a key winter tour destination. According to the local tourism authority, Jilin welcomed 62 million tourists in the 2016-17 winter season, 20 percent more than the previous year.
The province's top two winter resorts-Wanda Changbaishan International Ski Resort and Vanke Songhua Lake Resort-received more than 300,000 tourists in the 2016-17 winter season.
In Northwest China, tourists have been heading to Xinjiang in recent years, attracted by the light powder snow that covers its vast landscape during the winter season. The slopes of Mount Altay attract skiers and other winter tourists, with 3 million visiting Altay prefecture last year during the season, according to Xinhua.