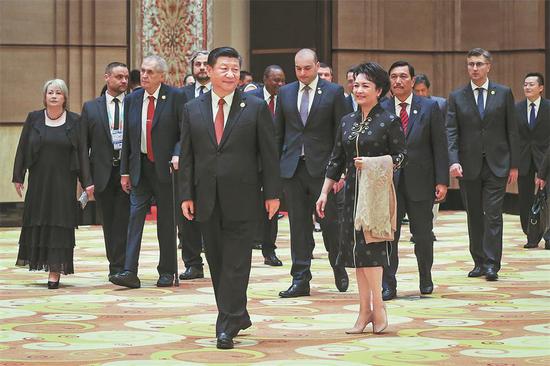 President Xi Jinping and his wife, Peng Liyuan, lead guests attending the China International Import Expo to a welcoming banquet in Shanghai on Sunday. (XU JINGXING / CHINA DAILY)
Special: China's First Import Expo
Event marks steps to open market, boosts global trade, president says
The inaugural China International Import Expo, which opens in Shanghai on Monday, is hosted by China but belongs to the world, President Xi Jinping said on Sunday.
The expo is not an ordinary event, but marks China's new round of advancing high-level opening-up as well as the country's taking significant steps to open its market to the rest of the world, Xi said when addressing a banquet that he and his wife, Peng Liyuan, hosted in Shanghai to welcome foreign guests attending the event.
Xi said the expo will help deepen international trade and economic cooperation, promote Belt and Road construction and advance economic globalization.
It will make positive contributions to enhancing the well-being of peoples from around the world as well as building a community with a shared future for mankind, he added.
Noting that Shanghai is the country's economic center and has been at the forefront of China's reform and opening-up over the past four decades, Xi said the city has witnessed the historic process of China's opening-up and cooperation with other countries.
On Monday, Xi will deliver the keynote speech at the opening of the six-day event, which will see participation of more than 3,000 companies from over 130 countries and regions eager to take advantage of the opportunities it presents.
Leaders of 18 countries will attend the expo. Xi will join foreign leaders to visit pavilions of different countries at the expo.
The import-themed expo, the first one organized at the national level, is considered a new platform for other countries' products to access the vast Chinese market.
Xi announced China's hosting of the expo at the opening ceremony of the Belt and Road Forum for International Cooperation in Beijing in April last year. Since then, Xi has on various occasions extended invitations to the rest of the world to attend the event.
When addressing the opening of the Boao Forum for Asia in April, Xi said the expo shows China's concrete measures to open its market.
At the BRICS Summit held in Johannesburg in July, Xi told leaders at the summit that hosting the expo is a major action China takes to firmly uphold free trade and pursue opening-up.
In a telephone conversation with US President Donald Trump on Thursday, Xi said the expo has shown China's willingness to increase imports and further expand its opening-up, and he is glad to see many US companies enthusiastically participate in the event.