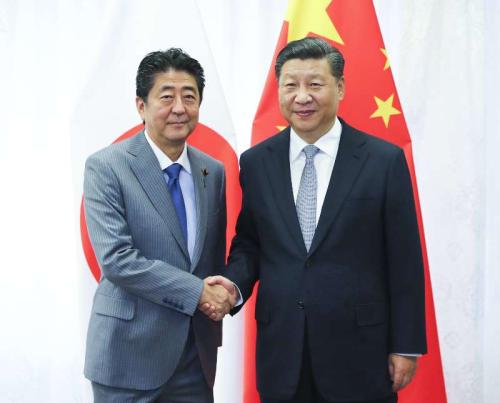 Chinese President Xi Jinping and Japanese Prime Minister Shinzo Abe meet in Vladivostokon, Sept. 12, 2018. (Photo/Xinhua)
Special: Xi Attends 4th Eastern Economic Forum
Chinese President Xi Jinping and Japanese Prime Minister Shinzo Abe met on the sidelines of the fourth Eastern Economic Forum in Russian port city of Vladivostok on Wednesday.
The two leaders agreed to further improve bilateral ties and shoulder joint responsibility in promoting global and regional peace and stability, as well as development and prosperity.
President Xi began by expressing his sincere condolences to the Japanese PM over the deaths and damage caused due to recent natural disasters in Kansai and Hokkaido.
Xi pointed out that this year marks the 40th anniversary of the signing of the China-Japan Treaty of Peace and Friendship.
Prime Minister Abe has signaled many positive changes towards relations with China and the Sino-Japanese relations are moving on a normal track, Xi said, adding that "Both the countries are facing important opportunities for improvement with joint efforts."
The Chinese president hoped that Japan will continue to maintain the momentum of improvement, and promote steady progress on Sino-Japanese relations to achieve new and greater development.
Xi stressed that China and Japan should always adhere to the four political documents signed by the two sides, consolidate political foundation, follow the correct direction, and manage and control their differences in a constructive way.
The four documents refer to the 1972 Sino-Japanese Joint Statement, the 1978 China-Japan Treaty of Peace and Friendship, the 1998 China-Japan Joint Declaration, and the 2008 Joint Statement on advancing strategic and mutually beneficial relations.
Xi particularly pointed out that Japan should properly handle sensitive issues concerning history and Taiwan, to actively create a good atmosphere and constantly expand common interests.
"We welcome Japan's continued active participation in China's reform and opening-up process to achieve common development and prosperity," Xi said.
He added that the Belt and Road Initiative has provided new platforms and experimental fields for deepening mutually beneficial cooperation between China and Japan.
Xi told Abe that China and Japan should jointly push forward the process of regional integration and build a peaceful, stable and prosperous Asia.
Both sides should firmly safeguard multilateralism, free trade system and the rules of the World Trade Organization, and promote the construction of an open world economy, Xi added.
On bilateral ties, the Chinese president called on both sides to carry forward the friendly tradition between the two peoples, further enrich it in the new era, and cement the social and public opinion foundation for China-Japan ties.
For his part, Abe said that Japan has long been committed to participating in China's reform and opening-up process, and China's development has also brought positive and important influence to Japan.
The current Sino-Japanese relations are returning to the normal track, and the space for cooperation between the two sides is further expanded, Abe added.
He said that Japan hopes to build closer ties with China and achieve common development and prosperity.
"Japan is ready to make active efforts to strengthen high-level exchanges with China, strive for more cooperation results and accelerate the improvement and development of Japan-China relations," Abe added.
Abe also said that the Japanese side is willing to work hard to enhance friendship between the two countries and properly handle sensitive issues.
On sensitive issues concerning history and Taiwan, Japan adheres to the position confirmed in the political documents of the two countries, which has not changed, Abe stressed.