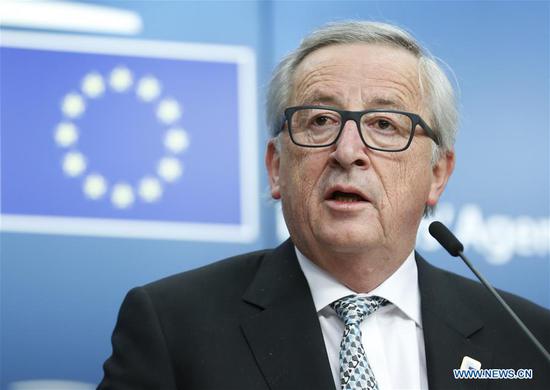 European Commission President Jean-Claude Juncker (Xinhua file photo)
In a wide-ranging Wednesday speech that touched on trade, migration, and global exchange currencies, European Commission President Jean-Claude Juncker used his final State of the Union Address to urge the European Union to take control of its destiny, and claim a place at the center stage of global politics.
"We will always be a global payer but it is time we started being a global player too," President Juncker told Members of European Parliament, meeting in Strasbourg for their first plenary session since the summer break.
"The world today needs a strong and united Europe," Juncker continued, claiming that the hour had come for European sovereignty.
Across the spectrum of topics, his speech covered -- common European defense, responsibility for climate change action, development strategies for the African continent, multilateral decision making in global governance, Brexit, and even the elimination of changing the clocks for summer time -- the European Commission president stressed a "better than expected" record for his administration, and expressed an optimism in the future of Europe.
A RESPECTABLE RECORD FOR JUNCKER'S ADMINISTRATION?
Entering the last 12 months of his time in office, Juncker could be considered as looking to establish his legacy as European Commission President. His term, however, saw many overlapping crises rattle the continent, leaving the Luxembourger to face challenges related to terrorism, the refugee crisis, climate change, and the Greek euro crisis.
Looking at the slow, but steady recovery from the global economic crisis, Juncker noted that Europe's economy had grown for 21 consecutive quarters. 12 million new jobs have been created in Europe since 2014, according to Juncker, and even if the 14.8 percent youth unemployment rate is too high, he said, it is the lowest it has been since 2000.
Promising developments in the migration crisis, which saw over 1 million migrants arrive on Europe's shores in 2015, according to European Commission figures, was also a highlight for Juncker.
"Arrivals have been drastically reduced -- down 97 percent in the Eastern Mediterranean and 80 percent in the Central Mediterranean," the European Commission president said, adding, "EU operations have helped rescue over 690,000 people at sea since 2015."
AN AMBITIOUS, GLOBAL FUTURE FOR EUROPE
The European Commission President Jean-Claude Juncker did not only focus on his record, however, turning also to ambitious proposals for a more unified Europe, strengthened and reinforced in order to take on its role as a player on the global stage.
"Africa does not need charity, it needs true and fair partnerships. And Europe needs this partnership just as much," Juncker declared, before proposing a new Alliance for Sustainable Investment and Jobs between Europe and Africa. He estimated that this new alliance would create as many 10 million jobs in the next five years alone.
For questions of migration, he called on the Presidency of the Council of the EU, currently held by Austria, to take definitive action on migration reform, so as to put an end to "ad-hoc" arrangements whenever a new migrant boat arrived. He also proposed to reinforce Europe's external borders by investing in the European Border and Coast Guard, adding ten thousand new border guards by 2020.
Notably, Juncker also pushed for the European Union's official currency, the euro, to gain ground as a global trade currency. He unveiled proposals to strengthen the EU Economic and Monetary Union, in order to create a stronger Eurozone, and help displace the U.S. dollar as the leading global trade currency.
The president even went so far as to mention the changing of daylight saving time, or summer time, after citizens' initiatives culminated in a European Parliament resolution calling for the end of clock changes twice a year.
SEALING THE CRACKS BEFORE REACHING FOR THE STARS
Emphasizing the strength of a unified Europe, Juncker used his State of the Union Address to look beyond the bloc, as far as outer space, praising the success of the Galileo space program, saying: "No single Member State could have put 26 satellites in orbit, for the benefit of 400 million users worldwide. No single Member State could have done this alone."
Juncker used the example, and several others, to stress the need for unity in the EU, before it could fully grasp its destiny. This included finding solidarity in the face of a core member leaving the Union, in the case of Brexit, but also the difficult terrain of disciplining member states who appeared to be running counter to European values, as in the case of Poland and, most recently, Hungary.
"In general, we must do more to revive the lost art of compromise. Compromise does not mean sacrificing our convictions or selling out on our values," Juncker said, in a reminder that the European treaties enshrine certain values that member states adopt when joining the EU.
"The Commission will resist all attacks on the rule of law. We continue to be very concerned by the developments in some of our Member States. Article 7 must be applied whenever the rule of law is threatened," the European Commission president promised, making reference to Poland and Hungary. Later on Wednesday, the European Parliament voted to trigger a disciplinary procedure known as Article 7 on Hungary, with consequences possibly leading to the suspension of voting rights.
"To love Europe, is it love its nations. To love your nation is to love Europe," Juncker declared as he reached his conclusion, warning against nationalism. "In short, we must remain true to ourselves."