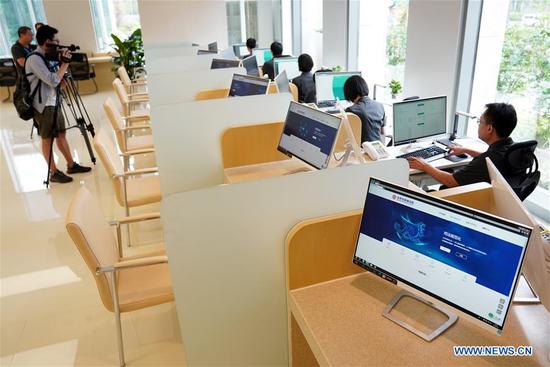 Staff members work at the Beijing Internet Court in Beijing, capital of China, Sept. 9, 2018. (Xinhua/Ju Huanzong)
China's second internet court opened in Beijing on Sunday as authorities step up measures to protect business transactions, personal information, and intellectual property online.
The Beijing Internet Court is given the jurisdiction to handle certain types of internet-related cases that should be tried by a primary-level people's court in Beijing in the first instance. Disputes in online shopping, service contracts, lending, copyrights, domains are among the typical cases.
An Fengde, vice president of the Beijing Higher People's Court, said the number of internet-related cases has been rising rapidly over the past few years.
In the first eight months this year, the city's courts tried 37,631 such cases, up 24.4 percent compared with the same period last year, he added.
An said the new court would strengthen the online protection of digital assets, intellectual property, personal information, and business secrets as part of efforts to build a prosperous, orderly and safe cyberspace.
The court, located in Zhongguancun Fengtai Science Park, is staffed with 38 judges with an average of 10 years trial experience and will be open 24 hours a day through its digital litigation platform, said Zhang Wen, president of the internet court.
Proceedings of each case -- from lawsuit filing to mediation, hearing, and judgment announcement -- will be accessible online. Appeals can be lodged and heard by an intermediate court or a special court such as the intellectual property court.
"We strive to make it easier for people to file a suit, boost trial efficiency, while maintaining impartiality and system safety," Zhang said.
Internet courts are a response to China's large and ever-growing online activity.
According to the latest survey by the China Internet Network Information Center, China has 802 million internet users, about 71 percent of whom are also online shoppers. The value of online retail sales reached 4.08 trillion yuan (about 594 billion U.S. dollars) in the first six months of 2018.
The country's first internet court opened in the e-commerce hub of Hangzhou in August 2017. In its first year, the court heard about 12,000 cases and closed about 10,600, the Supreme People's Court said last week as it released rules on internet courts' jurisdiction and operation.
It also announced that the third internet court would be opened in the southern city of Guangzhou this month.