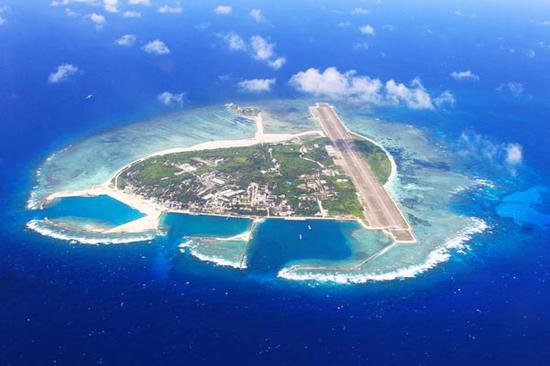 Yongxing Island is home to the government of Sansha, China's southernmost city. (Photo/Xinhua)
Sources told China Daily on Thursday that a Japanese media report is 'fake news'as it falsely claims that some foreign ministers of Southeast Asian countries will raise fresh "concern" in an annual joint communique to be issued later on Thursday over China and its land reclamation in the South China Sea.
The word "concern" is not something new, as the communique issued last year also used the word, and the concern actually does not target China, said the sources who are familiar with the matter and have agreed to speak on condition of anonymity.
The report "aims at meddling and stirring the situation", they added.
Ministers of all the 10 members of the Association of Southeast Asian Nations have scheduled to have their annual meeting in Singapore on Thursday and issue a joint communique after their meeting.
Japan's public broadcaster NHK claimed that it obtained a draft of the joint communique, which says the ministers "took note of the concerns expressed by some countries on the land reclamations in the area, which have eroded trust and confidence".
NHK says the "concern" falls on "China's activity in the South China Sea", and the statement for the foreign ministers' meeting in the Philippines last year did not use the word "concern" on the issue.
One of the unnamed sources told China Daily that the report is "fake news" as the communique last year did mention "concern".
The joint communique this year is likely to be more positive than the one issued last year, as the communique last year used seven paragraphs to talk about the South China Sea issue, while this year may be just two paragraphs, the source said.
Behind such a development is the recent progress of South China Sea situation, and the "concern", if brought up again, "does not target China", the source said.
"Quite a long time ago China had announced finishing land reclamation. The 'concern'targets land reclamation still being rolled out by standalone ASEAN countries or country," the source pointed out.
The second unnamed source unveiled that "standalone ASEAN countries attempted to insert some new negative narrations into the communique this year, but met opposition by the majority of ASEAN members".
"This shows that the overwhelming majority of the ASEAN members agree on the increasing stability of the South China Sea situation, and that they speak positively of the progress in managing and controlling the South China Sea situation jointly achieved by China and the ASEAN countries," the source said.
The NHK report noted that the word "concern" was brought up in an April statement issued by Singapore, which holds the rotating chairmanship of ASEAN and relevant meetings.
"That was a chair statement, but now we are looking forward to a joint communique to be issued by the ten ASEAN members, which are totally not the same case," said the third of the unnamed sources.