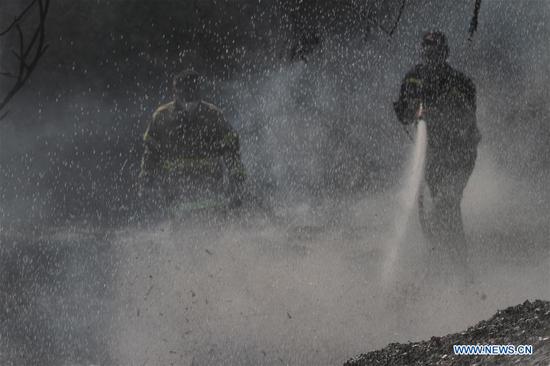 Israeli firefighters attempt to extinguish a fire in a forest field near the Kibbutz of Nahal Oz, near the barrier between Israel and the Gaza Strip, on July 17, 2018. The fire was caused by inflammable material attached to a balloon flown by Palestinian protesters from inside Gaza Strip. (Xinhua/Gil Cohen Magen)
Dozens of arson balloons were sent from Gaza into Israel on Tuesday, causing 17 fires in farmlands near Gaza, including a balloon that landed in a kindergarten.
A spokesperson of Israel's fire service said that firefighters distinguished multiple small fires near communities in the vicinity of the fence between Gaza and Israel.
The police said a helium-filled balloon landed in a kindergarten's yard as children played outside. The balloon did not cause fire. The teacher got the children inside and no injuries were reported.
Earlier on Tuesday, the military said an aircraft fired towards a squad that was launching arson balloons from the northern Gaza Strip. Palestinian media reported that at least two Palestinians were injured in the attack.
The arson balloons, which consumed at least 34,000 dunams (34 square km) of farmlands in southern Israel, are the focus of increased public criticism in Israel.
Israelis called the government to take a firm action against the senders of the balloons and Hamas, the Islamist Palestinian organization that runs Gaza.
The incidents followed the heaviest air attack that Israel carried out in Gaza since its 2014 military campaign in the Palestinian enclave.
On Saturday night, Hamas announced a cease-fire, but Israel's Prime Minister Benjamin Netanyahu said the launching of burning kites must stop too.
The arson balloons are part of a protest against the crippling blockade that Israel has imposed on Gaza since 2007. Israel charges that Hamas orchestrates the protest.