Before Chinese Premier Li Keqiang departed Berlin for home on Tuesday, he and his German counterpart Angela Merkel took a special ride in a self-driving vehicle at an exhibition for cooperation between China and Germany in developing autopilot technology.
Before Li and Merkel got to experience the self-driving technology, they viewed three self-driving test vehicles that were jointly developed by Chinese and German enterprises, and were briefed on the industry's latest technological developments.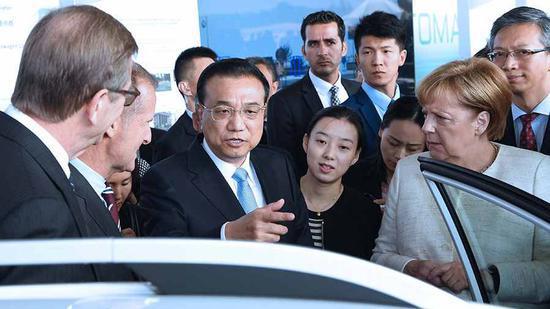 Chinese Premier Li Keqiang and German Chancellor Angela Merkel attend an autopilot cooperation exhibition between the two countries in Berlin, Germany, July 10, 2018. /Xinhua Photo
Premier Li encouraged both sides to have a more open attitude towards comprehensive cooperation between German automobile manufacturers and Chinese universities, not only in the realm of autopilot technology but also in big data research into traffic management and in innovative and entrepreneurial education.
The two leaders also exchanged views on how self-driving technology can improve the basic transportation rights for vulnerable groups, and how smart cities can help countries develop. Legal issues concerning the technology, as well as government support and regulations for enterprises, were also discussed.
After a smooth trip in the car, Li invited Merkel to experience self-driving vehicles in China.
In an address given later at the event, Premier Li referred to the cooperation exhibition as the "grand finale" of his visit, adding that by upgrading "traditional manufacturing cooperation" into "modern R&D cooperation", China and Germany can seize the opportunities together in the future market.
He also mentioned that China is pursuing a new round of opening up and will increase access to the automobile market, and promised the Chinese government will further improve intellectual property (IP) rights protection.
(With input from Xinhua)