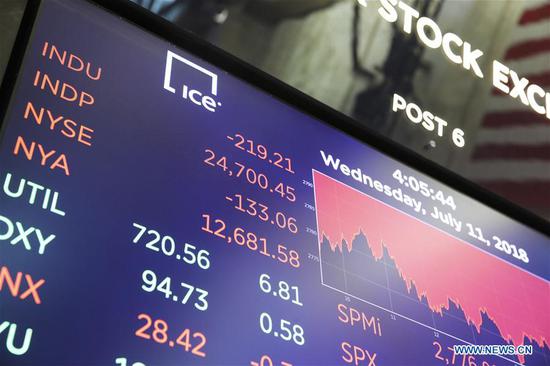 The trading information is seen on an electronic screen at the New York Stock Exchange in New York, the United States, on July 11, 2018. U.S. stocks closed lower on Wednesday. (Xinhua/Wang Ying)
U.S. stocks closed lower on Wednesday as trade tensions between the United States and its major trading partners intensified.
The Dow Jones Industrial Average was down 219.21 points, or 0.88 percent, to 24,700.45. The S&P 500 decreased 19.82 points, or 0.71 percent, to 2,774.02. The Nasdaq Composite Index decreased 42.59 points, or 0.55 percent, to 7,716.61.
The U.S. Trade Representative said Tuesday that Washington was preparing to impose 10 percent tariffs on another 200 billion U.S. dollars of Chinese imports.
The announcement came just days after the United States imposed 25 percent tariffs on 34 billion dollars of Chinese goods.
Shares of Caterpillar and Boeing, companies with high overseas revenue exposure, dropped 3.2 percent and 1.9 percent respectively.
As the latest corporate earnings season kicked off, investors began to turn their attention to earnings reports.
Overall, S&P 500 companies are expected to post second-quarter profit growth of around 21 percent, slightly higher than what was forecast in April, according to Thomson Reuters data.
J.P. Morgan Chase, Citigroup and Wells Fargo are all scheduled to report later this week.