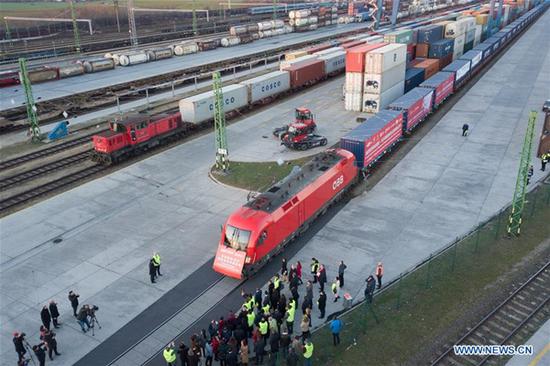 Photo taken on Nov. 27, 2017, shows the Xiang Ou Express Budapest-Changsha return freight train in Budapest, Hungary. (Xinhua/Attila Volgyi)
At a time when protectionism and unilateralism have painted gloomy prospects for the future of global growth and economic globalization, Chinese Premier Li Keqiang travels to Europe on Thursday in a trip set to deliver a stronger message that China will stay committed to opening up and free trade.
Li will pay official visits to Bulgaria and Germany and attend the seventh leaders' meeting of China and the Central and Eastern European (CEE) countries from Thursday to Wednesday, a significant move this year to advance ties between China and the European Union (EU) and seek consensus amid increasing world uncertainties.
Given the current circumstances, observers say, it is in the interests of both China and the EU to expand ties and cooperation, so as to send a positive signal to the world that the two large economies are keen on preserving a rules-based multilateral trading system.
FURTHER OPENING-UP
Li has visited Europe for over 10 times, and this will be his fourth to Germany as Chinese premier. German Chancellor Angela Merkel is also a frequent visitor to China.
Since he became premier in 2013, Li also held meetings every year with leaders of the 16 CEE countries, which plays an essential role in China-EU relations through expanding ties.
When meeting Merkel in Beijing this May, Li said China would further broaden market access, ease restrictions on foreign ownership of joint ventures in some sectors, enhance protection of intellectual property rights and create a more attractive market environment.
He reiterated China's determination to open up its door wider, a decision that will not only provide a boost to China's own development, but also bring opportunities and prosperity to the world at large.
During the visit, Li is scheduled to attend the meeting of China and CEE countries on 16+1 cooperation, a cross-regional platform built by the two sides, in the Bulgarian capital Sofia. In Berlin, Li and Merkel will co-chair the fifth round of China-Germany inter-governmental consultations.
The premier will also participate in economic and trade forums in both stops, where he is expected to deliver a strong and clear message that China's door will never be closed.
Beijing hopes the visit will help safeguard trade liberalization and bilateral investment, Vice Chinese Foreign Minister Wang Chao has said.
STRONG ADVOCATES
At the beginning of China's reform and opening-up policy, trade between China and Europe was roughly 4 billion U.S. dollars. Four decades later,trade has soared to over 650 billion dollars. The EU has now become China's largest trading partner, and China the EU's second largest trading partner for 14 consecutive years.
Trade between China and the 16 CEE countries in 2017 grew by 15.9 percent year-on-year, outperforming the overall growth rate of China's trade worldwide, which stood at 14.2 percent, according to Chinese customs figures.
China's vast market has generated huge profits for EU companies, and Chinese investment in Europe has created a large number of jobs and increased tax revenues, said Zhang Ming, Chinese ambassador to the EU. "China and the EU are already highly interdependent."
Both are staunch supporters of free trade. In face of the strong headwinds against economic globalization, it is more urgent than ever before for China and the EU to defend an open and free global trading system.
In a phone conversation on Wednesday, Premier Li told European Commission President Jean-Claude Juncker that China and the EU, as two important forces in the world, should expand cooperation in order to address challenges amid rising unilateralism and protectionism.
Juncker said the EU believes multilateralism is the way forward. The EU expects to promote multilateralism and free trade together with China during the upcoming 20th EU-China summit.
Although there are disputes in China-EU ties, cooperation and win-win results remain the norm, said Ruan Zongze, executive vice president of the China Institute of International Studies.
NEW IMPETUS
A further expansion of trade ties is expected to top the agenda of the premier's visit.
Li will attend innovation-themed events and signing ceremonies on a series of cooperation documents in Sofia and Berlin covering trade, finance, transportation, energy and education.
As a major force in the 28-nation EU, Germany is the most important trading, investment and technology partner for China in Europe.
Since the establishment of their all-dimensional strategic partnership in 2014, China-Germany relations have charged forward in the areas of trade, technology, and people-to-people exchanges. In 2016, China became Germany's largest trading partner.
The countries of Central and Eastern Europe have witnessed an accelerated economic expansion in recent years, marking a new regional engine of growth for the EU, Chinese Ambassador to Bulgaria Zhang Haizhou said in an interview with Xinhua.
He said the tangible results showed that the "16+1" cooperation met the region's development needs and provided a more diversified and mutually complementary way forward for China and CEE countries.
Liu Zuokui, a researcher with the Chinese Academy of Social Sciences, said Li's overseas trip, the first after the new Chinese cabinet was formed in March, reveals the fact that China-EU relations are highly valued by the Chinese side.