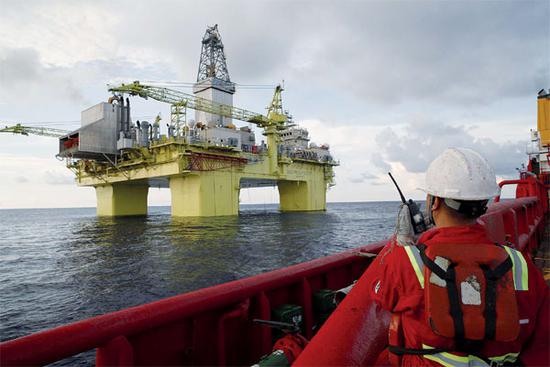 A worker checks one of CNOOC's deep-water drilling platforms in the South China Sea. (Photo/Xinhua)
CNOOC begins work on ultra-deep Lingshui 17-2 in the South China Sea
Construction of China's first self-supporting deepwater gas field has started in order to further tap oil and gas resources in the South China Sea and meet huge domestic gas demand, according to China National Offshore Oil Corporation, the nation's largest producer of offshore oil and gas.
This is the latest move by CNOOC, which is strengthening its presence in the area, after it formed a partnership with Australia-based Roc Oil Co and British Virgin Islands-registered Smart Oil Investment to jointly develop oil blocks in the South China Sea.
The company also signed a similar agreement in May with Canada's Husky Energy, after putting 38 offshore blocks up for bidding to seek overseas partners for joint development, the most in recent years.
Construction of the ultradeep Lingshui 17-2 gas field in the South China Sea with certified proven reserves exceeding 100 billion cubic meters will further ensure China's energy security as the nation phases out coal and other fossil fuels and shifts toward clean energy, said Li Li, energy research director at ICIS China, a consultancy specializing in the energy market.
Li said oil companies in China had revived production this year as oil prices recover following three years of decline. Crude prices climbed above $70 a barrel in 2018 after falling as low as $30 in early 2016. The company's deepwater drilling rig CNOOC 981 discovered Lingshui 17-2 in September 2014, which has an average operational depth of 1,500 meters below the sea surface, according to CNOOC.
While increasing US shale gas output might pose a threat to deepwater gas field exploration, which has relatively higher costs, gas production will help meet ever-increasing domestic gas demand, Li said.
According to CNOOC, China has mastered the design, construction and installation technology for semi-submersible production platforms to be used in volatile conditions in the South China Sea, it said.
The South China Sea has strong winds and cold temperatures, while constant moisture from storms and mist from the high winds make the region one of the most demanding of all offshore oil and gas exploration territories, along with the North Sea and the Gulf of Mexico, according to Li Yanjun, an engineer with CNOOC's Zhanjiang branch.
To further tap the gas resources in the South China Sea, CNOOC has also been eyeing more opportunities in the South China Sea in recent years, including the high-temperature and high-pressure gas fields in the region.
According to the Ministry of Land and Resources, nearly 15 trillion metric tons of natural gas lie in the high-temperature and high-pressure gas fields of the South China Sea, one-third of the total in the region.
However, Li from ICIS China said in addition to a sufficient supply of gas resources, what is as important is that the most significant contributor to the gas shortage is the limited capacity of distributed gas storage infrastructure.
China's imports of gas currently account for more than 30 percent of domestic consumption, and the figure is expected to continue growing, she said.
"It's necessary that China develops massive gas storage facilities to avoid large-scale gas shortages," said Li.