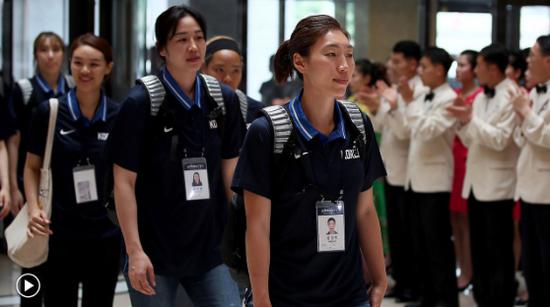 South Korean basketball players arrive in Pyongyang for friendly matches. (Photo/Screenshot from CGTN)
Basketball teams of the Democratic People's Republic of Korea (DPRK) and the Republic of Korea (ROK) will play four friendly matches against each other in Pyongyang on Wednesday and Thursday – an arrangement that coincides with the 46th anniversary of the announcement of the DPRK-ROK Joint Communique on July 4, 1972.
This is the fourth time for the two Koreas to hold friendly basketball matches in history and the first time that such games are held since October 2003.
The four games, under the name of "unification basketball matches," are taking place alongside US Secretary of State Mike Pompeo's first visit to Pyongyang after the June 12 summit between US President Donald Trump and DPRK leader Kim Jong Un in Singapore.
Why basketball?
The fact that the DPRK and the ROK are playing basketball matches in Pyongyang as part of the rapprochement between the two sides this year, particularly since the first summit between Kim and ROK President Moon Jae-in at the border town of Panmunjom on April 27.
According to the Panmunjom Declaration signed by the two leaders, Pyongyang and Seoul agreed to "encourage more active cooperation, exchanges, visits and contacts at all levels in order to rejuvenate the sense of national reconciliation and unity." Kim and Moon also reaffirmed the ultimate goal of "peace, prosperity and unification of the Korean Peninsula."
To implement the Panmunjom Declaration, the DPRK and the ROK held sports talks on June 18, agreeing to stage basketball matches in Pyongyang in early July and Seoul in autumn.
"I hope that as the PyeongChang Winter Olympics served as foundation for peace, the unification basketball matches will serve as a chance to advance peace on the Korean Peninsula," ROK Unification Minister Cho Myoung-gyon, who led the ROK basketball delegation, told reporters before heading to Pyongyang on Tuesday.
The DPRK sent athletes to take part in the PyeongChang Winter Olympics hosted by the ROK in February. The two Koreas fielded a joint table tennis team at the World Team Table Tennis Championships in Sweden in May. They also agreed recently to field unified teams at the Asian Games slated for August in Indonesia.
"We are proud that sports are taking the initiative in opening the road for... peace," DPRK Vice Sports Minister Won Kil U said as he greeted the ROK delegation at Pyongyang's Sunan airport.
According to ROK media, the basketball games will provide an opportunity for Cho to discuss other issues with high-level DPRK officials. There are also speculations that the DPRK leader may attend the matches.
Kim, a basketball fan, has met former NBA star Dennis Rodman several times in Pyongyang. Kim reportedly expressed his enthusiasm for basketball exchanges during his meeting with Moon in April.