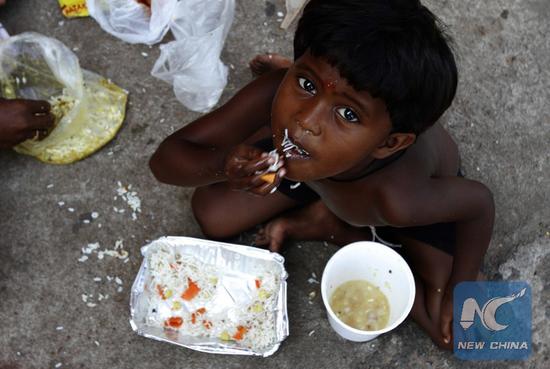 File Photo: A child of a street bagger family eats gifted food on the World Food Day in the eastern Indian state Orissa's capital city Bhubaneswar, Oct. 16, 2014. (Xinhua/Stringer)
A UN report published Wednesday said that world hunger "appears to be on the rise again" after a prolonged decline.
"Conflict, drought and disasters linked to climate change are among the key factors causing this reversal in progress," said the 2018 Sustainable Development Goals Report launched at the United Nations headquarters in New York.
The proportion of undernourished people worldwide increased from 10.6 percent in 2015 to 11 percent in 2016. This translates to 815 million people worldwide in 2016, up from 777 million in 2015, according to the report.
In 2017, 151 million children under the age of five suffered from stunting (low height for their age), 51 million suffered from wasting (low weight for height), and 38 million were overweight, said the report.
Aid to agriculture in developing countries totaled 12.5 billion U.S. dollars in 2016, falling to 6 percent of all donors' sector-allocable aid from nearly 20 percent in the mid-1980s.
Progress has been made in reducing market-distorting agricultural subsidies, which were more than halved in five years, from 491 million dollars in 2010 to less than 200 million dollars in 2015.
In 2016, 26 countries experienced high or moderately high levels of general food prices, which may have negatively affected food security, the report noted.