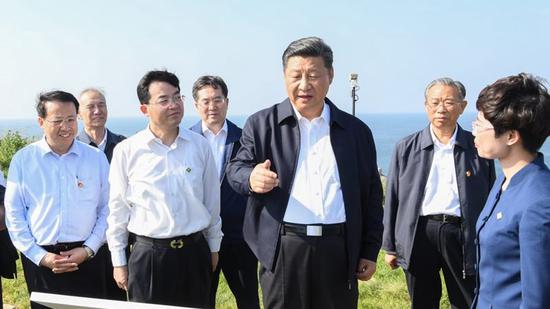 (Xinhua Photo)
Chinese President Xi Jinping said developing the marine economy and research is key to building a strong nation. He said this while inspecting the Qingdao National Laboratory for Marine Science and Technology in Qingdao City, east China's Shandong Province, on Tuesday morning.
Xi Jinping listened to a briefing by Guan Huashi, an academician of the Chinese Academy of Engineering, on the research and development of marine pharmaceuticals. Xi also pointed out that marine economy and technology is an important area for future development.
Xi left Qingdao on Tuesday afternoon and went to Weihai City, where he visited the Museum of the Sino-Japanese War and an ancient fort of the Beiyang Navy.
Xi's inspection came after he attended the 18th summit of the Shanghai Cooperation Organization (SCO) from June 9 to 10.