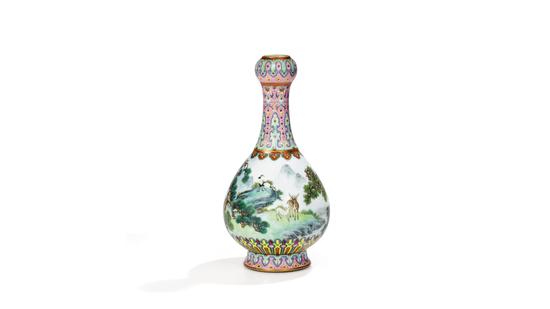 A rare Chinese imperial vase discovered in the attic of a family home in France is on auction. (Photo/China Daily)
A long-forgotten and rare Chinese imperial vase discovered in the attic of a family home in France was sold for 16.2 million euros (19 million US dollars) at Sotheby's in Paris on Tuesday.
The sale was more than 30 times the estimate as experts set a guide price for the vase – decorated with deer and cranes – at 500,000 euros.
Reuters reported that the buyer was Asian but the auction house did not wish to reveal the name or nationality. The amount is the highest ever recorded for Chinese porcelain by the auction house in Paris.
Sotheby's said the vase is the only known example of its kind and it was produced by the Jingdezhen workshops for the magnificent courts of the Qianlong Emperor (1735-1796).
The 18th-century porcelain vase was found by chance among dozens of other pieces of Chinoiseries in an attic by its unsuspecting owners, who then brought the vase to the auction house in a shoebox for valuation.
The vase had been left to the great-grandparents of the present owners by an uncle, and appears among the listed contents of his Paris apartment after he passed away in 1947.
Chinese famille-rose (rose family) porcelain wares of the Qianlong period are extremely rare on the market, with most examples currently housed in the National Palace Museum in Taipei and other museums around the world.

The Chinese yangcai vase is decorated with deer and cranes. (Photo/China Daily)
When these pieces do come to auction, they sell for astronomical prices. Earlier this year at Sotheby's Hong Kong, a famille-rose porcelain bowl was sold for 30.4 million dollars.
Sotheby's said that these so-called yangcai porcelain commissions were the very epitome of the ware produced by the Jingdezhen imperial kilns. They were made as one-of-a-kind items, sometimes in pairs, but never in large quantities.
"This is a major work of art, it is as if we had just discovered a Caravaggio," Olivier Valmier, the Asian arts expert at the auction house, said before the sale.