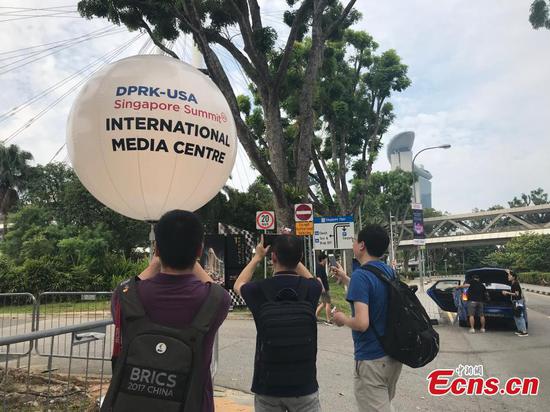 Reporters gather at the International Media Center for the DPRK-USA summit at F1 Pit Building in Singapore, June 10, 2018. (Photo: China News Service/Meng Xiangjun)
The Democratic People's Republic of Korea's leader Kim Jong Un and US President Donald Trump arrived in Singapore on Sunday ahead of the first ever face-to-face meeting between leaders of the two countries, expected to take place on Tuesday.
Who will attend and what's on the agenda at the on-off-on summit?
Who's in Singapore?
Kim and Trump arrived in Singapore amid a massive security operation with large entourages in tow. Kim and his team are staying at the St. Regis Hotel, while Trump and the U.S. officials are staying at the Shangri-La Hotel.
Key members of the delegations are reported to include:
DPRK: leader Kim Jong Un, his sister Kim Yo Jong, Foreign Minister Ri Yong Ho, Defense Minister No Kwang Chol, key aide Kim Yong Chol.
U.S.: President Donald Trump, Secretary of State Mike Pompeo, Ambassador to the Philippines Sung Kim, Chief of Staff John Kelly, Deputy Chief of Staff Joe Hagin, Pres Secretary Sarah Sanders, National Security Advisor John Bolton, National Security Council Asia director Matthew Pottinger.
Other potentially significant players in Singapore include former basketball star Dennis Rodman, who has made several visits to Pyongyang, and a massive international media presence. Singaporean Prime Minister Lee Hsien Loong met Kim on Sunday and Trump on Monday.
What's the format?
The meeting between the leaders is set to take place at the Capella Hotel on the Singaporean island of Sentosa. It is scheduled to begin at 9 a.m. local time on Tuesday. Beyond that, the format is unknown.
Video--Capella Hotel: where Trump and Kim will meet
Officials from the two sides have met regularly in recent weeks, but whether a formal agreement will follow the meeting or even how long it will last is unclear. US media has reported that Trump could hold talks for minutes -- or days.
CGTN's Wang Guan reported that a one-on-one chat with only interpreters joining the leaders could be on the cards. AP quoted a U.S. official as saying Trump and Kim planned to meet one on one for up to two hours before allowing advisers into the room.
Asked on Saturday about his goals for the summit, Trump said: "Well, I think the minimum would be relationship. You would start at least a dialogue, because, you know, as a deal person, I have done very well with deals."
A US press briefing slated for 5 p.m. in Singapore on Monday should reveal more. The US president has made one aspect of the agenda clear – he'd "love" to play golf with Kim, but won't.
What's on the agenda?
Denuclearization of the Korean Peninsula is at the forefront of the agenda. A path to that goal may include lifting of international sanctions on Pyongyang, foreign investment in the DPRK, the granting of security assurances, and a formal end to the Korean War.
The DPRK's state media outlet KCNA said on Monday that a "permanent and durable peace-keeping mechanism" on the Korean Peninsula, denuclearization of the Korean Peninsula and other issues of mutual concern would be discussed.
Pompeo tweeted on Monday morning that Washington was "committed to the complete, verifiable, irreversible denuclearisation of the Korean peninsula."
An agreement on what "denuclearization" means is expected to be central to discussions between officials and leaders.
How will it be presented?
The optics of the summit are likely to be almost as closely watched as the content – a photo of the leaders shaking hands would be historic, and indications are that this will take place at the beginning of the meeting.
Body language between Kim and Trump will be heavily interpreted, as will the menu of any shared meal.
Other signs, such as the DPRK and U.S. flags hanging side by side, will be closely watched, as will the troupe of DPRK bodyguards who made headlines during Kim's meeting with Republic of Korea President Moon Jae-in in April.
Security measures are expected to be intense, with roads and hotels in Singapore secured by the Gurkha Contingent of the Singaporean police and airspace restricted.
What could be the outcome?
Trump has described the meeting as an opportunity for the leaders to get to know each other, so the most likely outcome – if relations are cordial – is an agreement for further talks and a second meeting.
The US president said last week that he could invite Kim to the White House "if it goes well" in Singapore. Bloomberg has previously reported that Trump is considering a meeting at his Mar-a-Lago resort in Florida.
However, the unexpected could happen.
Trump has already cancelled the summit once. He has also previously floated the idea of a grand bargain being struck. The US president said on Saturday any agreements struck would be "spur of the moment."