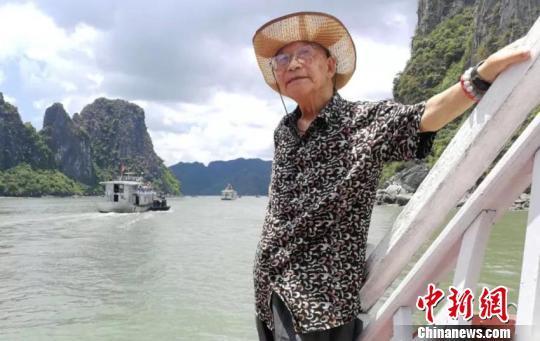 A file photo of Liu Sendao travelling from Chengdu, Southwest China's Sichuan province. (Photo/chinanews.com)
Liu Sendao, 90, who started a travel around the country in May from Chengdu, Southwest China's Sichuan province, arrived in Changchun, Northeast China's Jilin province, and met his daughter there on Saturday.
Liu believes "it is better to travel 10,000 miles than to read 10,000 books." After retirement, he has visited many places: from Harbin in the north to Sanya in the south and from Zhoushan in the east to Tengchong in the west.
When he was 86 years old, he went to Lhasa through National Highway No 318.
He has a strong wish to travel around the country to see the new changes. To fulfill his father's will, Liu Yunshan, 55, drove his father on a caravan, and started the new journey from Chengdu on May 3.
They plan to travel more than 30,000 kilometers in three months.
They have already covered over 11,000 kilometers in more than one month, travelling tens of cities en route, including Kunming, Nanning, Zhuhai, Guangzhou, Shanghai, Yantai, Dalian, Shenyang and Changchun.
"If my body allows, I want to go straight ahead," the old man said.