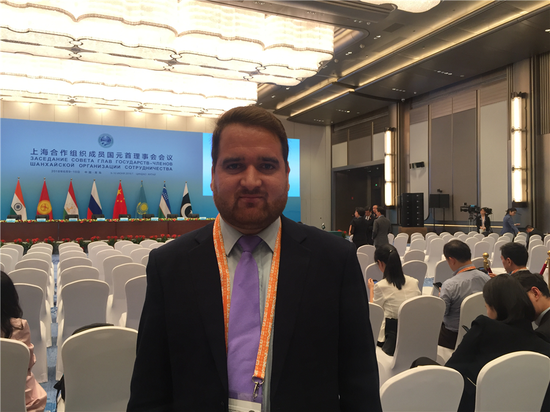 Wajid Khan, a reporter from Independent News Pakistan, poses for a photo in Qingdao for the 18th Shanghai Cooperation Summit, June 10, 2018. (Photo by Guo Rong/chinadaily.com.cn)
Special: SCOQingdaoSummit
President Xi Jinping delivered a keynote speech at the Shanghai Cooperation Organization Summit on Sunday
President Xi called for further carrying forward the "Shanghai Spirit" to surmount difficulties, defuse risks and meet challenges.
He also announced that China will set up a 30-billion-yuan ($4.7 billion) equivalent special lending facility within the framework of the Inter-Bank Consortium of the Shanghai Cooperation Organization.
Here is a collection of comments from foreign reporters covering the summit.
Wajid Khan, a reporter from Independent News Pakistan, said Xi's speech was very "comprehensive, effective and solution-oriented".
There are some forces against globalization and Xi talked against unilateralism and trade protectionism in the international system for our global village, Khan said.
Xi also asked SCO member states to adhere to the Shanghai spirit for the peace and stability of the region, he added.