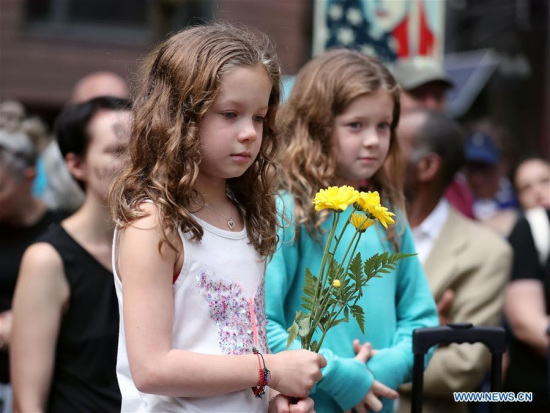 A girl holding a bunch of flowers participates in an evening vigil at Federal Plaza in Chicago, the United States, on Aug. 13, 2017. (Xinhua/Wang Ping)
U.S. President Donald Trump on Tuesday defended his response to the violence in Charlottesville, Virginia, blaming the "dishonest" media at a campaign rally.
"I strongly condemn neo-Nazis, white Supremacists and the KKK," Trump said in a prime-time address on Tuesday evening at the "Make America Great Again" rally held in Phoenix of the state of Arizona.
He said media reports didn't cover his response to Charlottesville violence fairly.
"Did they report that I said racism is evil?" Trump asked the crowds at the Phoenix Convention Center.
"I hit them with neo-Nazi. I hit them with everything. KKK? We have KKK. I got them all," he said.