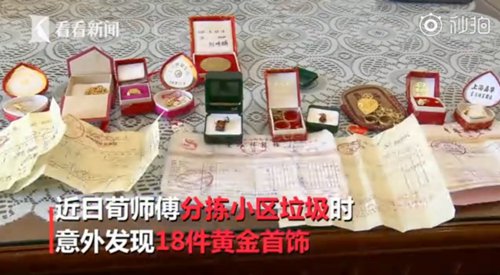 A man surnamed Liu in Shanghai recently successfully retrieves 18 pieces of gold ornaments from his trash during the city's garbage-sorting campaign. (Screenshot photo)
Unlike other Shanghai residents who may be experiencing headaches in the strictest garbage-sorting campaign, a man surnamed Liu, however, may not be that grumpy because he managed to retrieve 18 pieces of gold ornaments from his trash.
The Shanghai police told Xinhua News Agency that a resident surnamed Liu in the Putuo District threw a cardboard carton away a few days ago.
Unexpectedly, huge luck visited Liu: Xun Siwei, a garbage collector in the neighborhood, reported to the police that he found that the carton contained a plastic bag full of golden accessories.
"They are gold, but I know they belong to someone else. I can not keep them," said Xun.
Police checked the accessories and found a name and birth date inscribed onto a golden badge. Based on the details, police returned the accessories to Liu.
Liu said he had been searching for the gold for three years, but failed to locate it.
"Getting these valuables back is the boon of garbage sorting," he said. "My family will spare no effort in carrying out the garbage-sorting campaign."
Liu's gold being retrieved has gathered interested commentators online.
"There is really hidden gold in your garbage," one netizen exclaimed.
"Have faith in garbage sorting, it will bring you good luck," anther netizen commented.