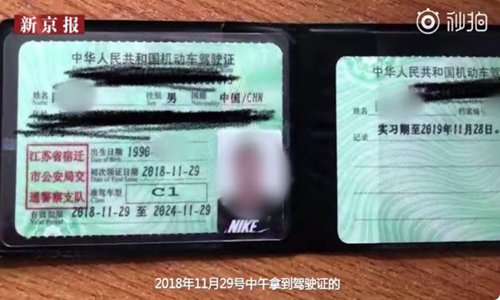 A man in Suqian, East China's Jiangsu Province finally gets his driving license after 11 years of attempts. (Screenshot photo of The Beijing News)
Social media is celebrating along with a man from who, after 11 years of attempts, has finally passed the driving license test.
Video circulating online shows Chen, 29 of Suqian, Jiangsu Province, grinning as he holds his newly acquired license to a bit of local fanfare.
Friends were on hand to mark the long-awaited occasion with fireworks, a banner, and a bit of sarcasm.
"Congratulations to Boss Chen on taking 11 years to get his driving license," the red banner reads.
Chen said he made his first attempt in 2007 when he was only 18.
Despite changing driving schools four times, Chen said it was the written test that proved to be the real roadblock.
All in all, Chen estimates it cost him nearly 40,000 yuan ($5,826).
However, Chen showed that he has a sense of humor about the journey. "My friends joked that getting a driving license was harder for me than getting into college," Chen said.
Chen is not alone in his struggles. The written test for a Chinese driving license is notoriously difficult. It consists of 100 questions - from a possible 1,000. The lowest passing grade is 90 percent.
Social media users both congratulated and sympathized with Chen.
"Is it difficult to get a driving license in China? Yes, it is harder than getting into heaven," a Sina Weibo user said.