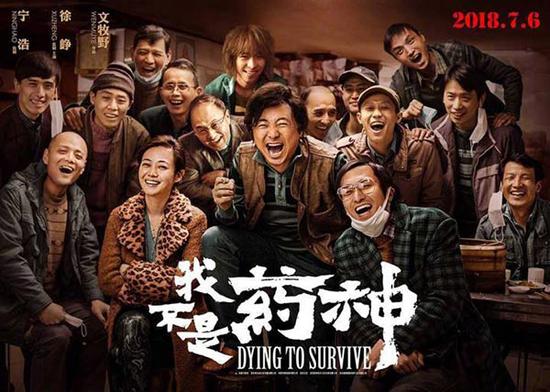 A poster of Chinese movie "Dying to Survive". (File photo)
(ECNS) -- Chinese movie "Dying to Survive" stood out from the nine nominated to win Best Asian Film at the 2018 Australian Academy of Cinema and Television Arts (AACTA) Awards on Wednesday.
The film stars Xu Zheng and is based on the real-life story of a Chinese leukemia patient. It tells about a shady health supplement supplier who smuggles generic drugs from India to help leukemia patients in China.
China cut tariff on Indian drugs in July after the movie hit a nerve with the Chinese public.
The film's director and screenwriter Wen Muye said it is his first time for winning a prize in the southern hemisphere. He hopes more audiences around the world will have the opportunity to enjoy the realistic film.
Warwick Thornton's "Sweet Country" was the biggest winner of the night, taking home six awards, including Best Film.
AACTA, founded in 1958, was originally the Australian Film Institute (AFI) Awards. This year marks its 60th anniversary.