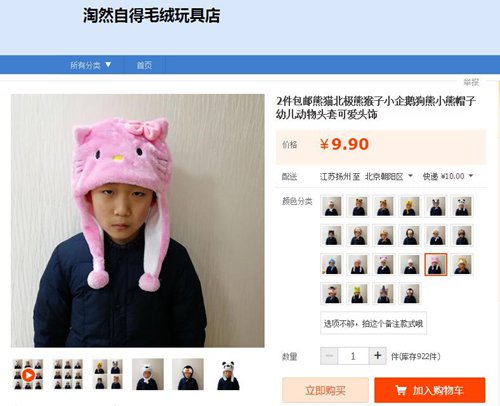 Screenshot shows photos of the boy dubbed "Taobao's unhappiest model." (Photo/Courtesy of aiqing_zr's Taobao store)
A Chinese boy has been dubbed "Taobao's unhappiest model" after the internet rejoiced in a series of photos showing him modeling cuddly animal hats for his mom's store with a look of pure loathing on his face.
The series of photos on shopping site Taobao show the boy, who is not identified and appears around 10 years old, reluctantly wearing a number of different fuzzy animal hats.
He is clearly unenthused about the job, which was reportedly given to him by his mother who sells the hats online, Qilu Evening News reported on Tuesday.
Visitors to the Taobao store noticed. "The little boy looks like he's in low spirits. Is it because of the quality of the item?" one Taobao user commented in September.
"No, it isn't. This is my son. He is very naughty and does not want to be my model," the shop owner answered.
The boy's expression turned a lot of frowns upside-down on Sina Weibo.
"It's so funny, hahaha," "yananan" wrote.
"I support the little model's silent protest," "Corinsh" commented.