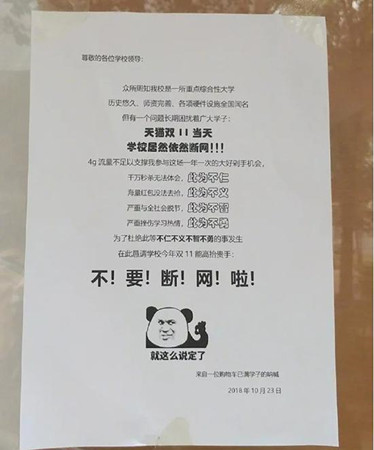 A university in Hunan Province has denied a student's petition for late-night internet access to grab deals during the mega-shopping event Singles' Day.
The student had circulated the petition on the campus of Xiangtan University, requesting that school officials remove their usual internet curfew at midnight so that they can get a jump on the November 11 sale.
"It is not right to let us miss this great chance to make purchases at very low prices and use discount coupons," reads the poster.
A teacher at Xiangtan University said internet is blocked every night at 12 am and November 11 will not be an exception.
"Singles' Day celebrates shopping, which can have a negative influence on students' views on consumption, life and other values, as their main source of income is their parents," the teacher said. "Besides, staying up so late will influence their daily routines."
Blocked internet access in dorms during late hours is common practice in colleges and universities in China.
While users suggested using mobile internet instead, some pointed out that for many students that's also not an option.
"Our school always blocks data service after they cut internet access," posted "Schroedinger-and-his-cat."