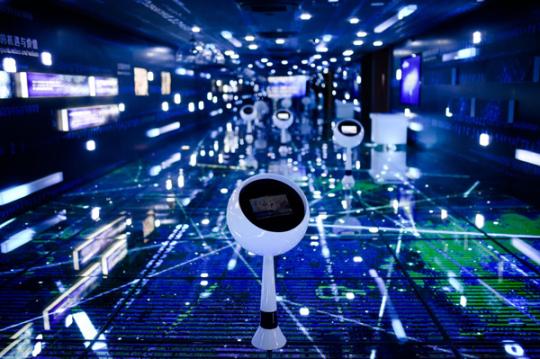 A time tunnel effect is displayed at Guizhou province's big data demonstration center in Guiyang. (Photo/Xinhua)
When a young Nevin Zhang Lianwen left China in 1987 to study overseas for a year, he didn't know his journey would eventually lead him back home to help the country become a front-runner in developing artificial intelligence, a potentially world-changing technology.
"The frameworks I learned that year were of particular importance to my later research on AI," Zhang said in his office at Hong Kong University of Science and Technology, where he is a professor in the Department of Computer Science and Engineering.
In 1987, Zhang was studying applied math at Beijing Normal University when the Chinese government sponsored him to participate in a one-year exchange program at the University of Kansas in the United States. He studied under Glenn Shafer, an American mathematician and statistician known for his evidence theory. It was there that Zhang's AI journey began.
After completing his doctorate in applied math at BNU in 1988, Zhang returned to North America in 1990 - this time to Canada to attend the University of British Columbia, where he would earn a second PhD in computer science. He settled in Hong Kong in 1994 and developed his own model of analysis for traditional Chinese medicine, based on Shafer's theory, which scholars at universities and TCM hospitals have been using for further research.
The major considerations for changing his research field to computer science, Zhang said, were better career and earnings prospects. But there was also always a voice in his mind reminding him to do something that could benefit his country, including his boyhood home, a remote village in Nanchong, in southwestern China's Sichuan Province.
Some people are skeptical about TCM treatments, thinking that a doctor's diagnosis is subjective, rather than being based on science. But having been born and raised in a village without high-end hospitals, Zhang's parents usually took him to TCM clinics when he was ill as a child.
"I saw TCM doctors in my village start to practice medicine after only two years' training," Zhang said. "But they were good. I thought they should be recognized."
Zhang applied AI technology to TCM in the early 2000s. He developed a data-driven approach, termed "latent tree analysis", which he hopes will unravel the classification problems associated with TCM.
He aims to validate TCM theories with data sets and a scientific approach in order to provide standardized results for the classification of TCM symptoms, leading to more valid and efficient treatments.
"The approach helps to provide a quantitative summary of TCM doctors' know-how by justifying the existing medical records statistically," he said.
For Zhang, cooperating with medical universities on the mainland is significant, as the data are huge and valuable.
He said he expects the application of AI will not be limited to TCM theoretical studies, and will extend to clinical experiments and objective evidence.