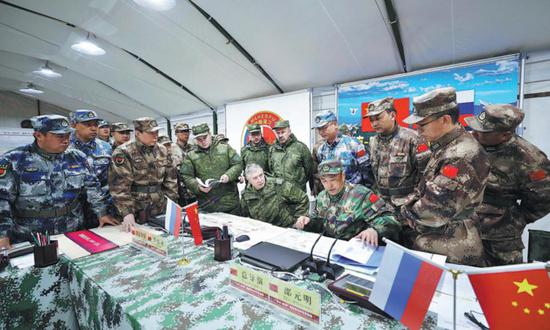 Chinese and Russian commanders discuss strategies during the five-day "Vostok-2018"military drill, which began on Tuesday in Russia. (Photo/Xinhua)
Chinese and Russian troops began a five-day joint military drill code-named "Vostok-2018" on Tuesday in the Trans-Baikal region of Russia.
The middle part of the Onon River flows past the Tsugol training range where a Chinese commander shouts out an order, and over 170 Chinese soldiers suddenly rush out of the bushes.
Further downstream, around 500 meters from the Chinese position, a battalion of Russian soldiers slowly crawls toward the riverbank.
This is just a sampling of the joint exercises between militaries of the two countries, with the drill taking place north of the Mongolian border.
Ji Yonggang, a battalion commander of the Chinese pontoon brigade, said infrastructure such as bridges will be primary targets during an actual battle. The significance of practicing this defensive activity is to ensure that the frontline troops can quickly overcome obstacles like rivers and lakes, and effectively attack enemies.
Unlike previous joint exercises in which China and Russia focused on anti-terrorism drills, the "Vostok-2018" drills include a broader variety of activities.
This time around, some 3,200 Chinese troops and 300,000 Russian military personnel will conduct joint mobile defense exercises, including mock attacks and counterattacks.
Wu Keli, vice-chief of staff of the People's Liberation Army's 78th Corps, said the activities actually showcase the complete process of a military campaign, which is aimed at strengthening an army's actual combat capability in a remote and barren location.
"This exercise will be the most stringent test of combat skills and the military districts' readiness for ground, air and naval operations," Valery Gerasimov, chief of the general staff of the armed forces of Russia, said at a news conference. He said the main purpose of the drill is to check the level of training of the troops.
Wang Shiwei, chief of staff of the Chinese pontoon brigade, said the drills offered new perspectives for Chinese troops who have shown greater capacity in dealing with disaster relief and rescue work within China, but lack the real combat experience of their Russian counterparts.
"These types of military-to-military exchanges are really critical because of the trust we build," Wang said.
Wang's Russian counterpart, Vladimir Flavov, colonel of the Russian 36th Army Corps, agreed with Wang, saying the most valuable part of the drill is that the two troops can exchange combat strategies and practice tactics together.
"By doing so, our friendship becomes even closer," he said.