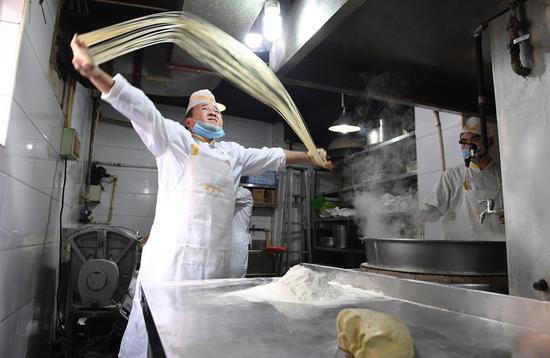 A beef noodle master pulls a bowl of noodles at a Lanzhou beef noodle restaurant. Jinweide Beef Noodles has opened its stores and plants in China and more than 40 other countries. (Photo by Yang Yanmin/For China Daily)
Valued at 312 million yuan, Jinweide institutionalizes the art of making China's favorite food
Jinweide Beef Noodles' overseas success is not just because its main product boasts great taste; its training centers abroad have also played a key part.
In a sense, Jinweide has institutionalized the art of making Lanzhou noodles. Now, it wants to have the world's noodles market eating out of its hand.
From 2010 till now, the company has trained over 30,000 people in making Lanzhou noodles to exacting standards. And noodle-lovers in China and 40 countries, including South Korea, Japan, France, the United States, Singapore and Canada, are the beneficiaries.
Jinweide is the first Chinese enterprise to impart training in the preparation of Lanzhou noodles. Its training centers can educate 4,000 people annually worldwide.
"We have established overseas stores and training centers. At our training centers, employees learn not only Lanzhou noodle preparation but business management. After training, they return to our stores and run the business," said Liang Shunjian, president of Jinweide.
It was in 2006 that Liang realized the so-called noodle-masters knew how to make noodles but had no clue about making soup and beef. Nor were they adept at business management.
So, he started Lanzhou noodles training. People flew in from France, Japan and South Korea to Lanzhou for training.
With the number of students increasing, Liang opened his first training center in China. He even published a book-A Guide to Making Lanzhou Noodles-to introduce his method and recipe.
Later, Liang set up Lanzhou noodle stores. He called them Jinweide Beef Noodles, which opened in China and more than 40 other countries.
Over 30,000 employees trained by Liang's training centers are now settled around the world, devoted to the challenge of making Lanzhou noodles globally famous.
In 2009, Liang went to Japan for a cultural exchange program relating to Lanzhou noodles. He taught Japanese students how to make Lanzhou noodles. After winning their admiration and hearts with his craftsmanship, he proceeded to the US in 2013.
There, he innovated by making Lanzhou noodles using American flour. Their unique taste floored the US consumers. Rave reviews followed.
Ren Fukang, deputy director-general of the Department of Commerce of Gansu province, noted that Jinweide's going-global strategy shows that Lanzhou noodles can spawn an international market.
"The brand should be cultivated. An ecosystem encompassing research and development, technical training and manufacturing should be established. The company should grasp opportunities brought by the Belt and Road Initiative and accelerate the pace of its going-global moves. Lanzhou noodles should become a 'calling card' for Lanzhou," Ren said.
Currently, in BRI-related markets, ingredients like cardamom, fennel, shallot and onion are sourced locally, so the cost tends to be lower, giving Jinweide a strong competitive advantage in pricing.
The actual process of making Lanzhou noodles is quite simple, Liang said. Hence, the company's plants can output four to five bowls per minute. In addition, Lanzhou noodles are non-fried, which gives them a fresh taste that can't be found in fast food like pizzas and burgers in Europe and the US.
The company does not use any standardized way of presenting or garnishing prepared noodles. This gives stores across geographies the freedom to customize presentation to suit local aesthetic habits.