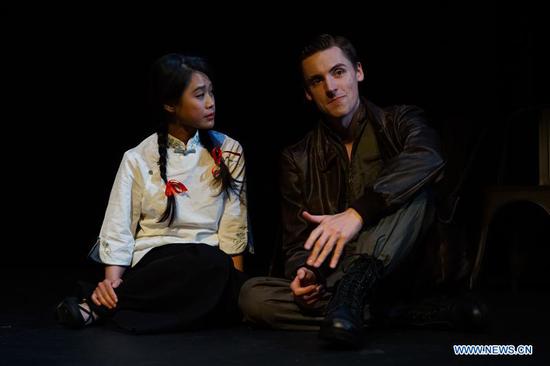 Actors perform during a rehearsal of off-Broadway show Flying Tiger Flying Away in New York, the United States, on Sept. 5, 2018. (Xinhua/Lin Bilin)
Seventy-seven years after the First American Volunteer Group (AVG) joined the Second World War, a play comes to New York City to unfold the stories of the pilots who volunteered to fight shoulder to shoulder with the Chinese people against invaders.
The play, named Flying Tiger Flying Away, revolves around three young pilots from the AVG, also known as Flying Tigers, and two Chinese volunteer nurses in southwest China's Yunnan Province.
The lives of these five young people are intertwined and entirely changed because of the war. Sixty years later, those who are alive reunite in Kunming. Long buried secrets are solved and they begin writing new chapters in their lives.
Zhang Xi, the play's director and playwright, who drew on a decade of research and interviews on war to write the story of Flying Tigers, said the play is a cross-cultural attempt to advocate world peace.
She said the production will allow the audience to recall the past memories when Chinese and U.S. people joined hands to pursue peace.
The play had its debut on Wednesday night at the Theatre at Saint Peter's. It will run through Friday.