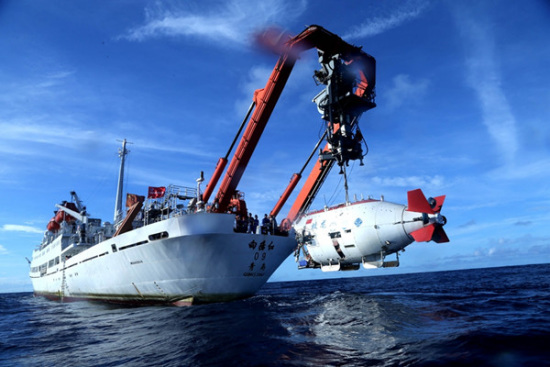 Jiaolong, China's manned submersible, is lowered for a dive on June 20, 2017. (Photo/Xinhua)
A new mothership for the submersible Jiaolong will be launched by the end of this year, the National Deep Sea Center announced on Thursday.
The new mothership named Shenhai Yihao (DeepSea No. 1) will be tested after its launch, and is expected to be put into service in the first half of 2019, said Yu Hongjun, head of the center.
Shenhai Yihao, 90.2 meters long and 16.8 meters wide, has a cruising capacity of 14,000 nautical miles and will carry Jiaolong to launch a global oceanic scientific expedition in 2020, according to the center.
Jiaolong's current mothership, 40-year-old Xiangyanghong 09, has carried Jiaolong for hundreds of dives since 2009.
The manned submersible Jiaolong completed its deepest dive of 7,062 meters in the Mariana Trench in June 2012.