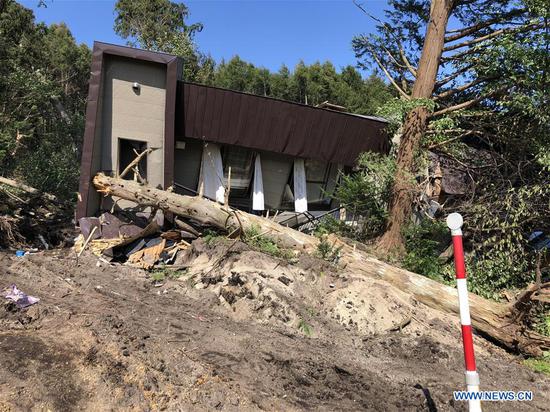 Photo taken on Sept. 6, 2018 shows a damaged house after an earthquake in the town of Atsuma, Hokkaido prefecture, Japan. (Xinhua/Deng Min)
Sixteen people have been confirmed dead and around 26 people still remain missing in the wake of a powerful earthquake that rocked Hokkaido Prefecture in northern Japan in the early hours of Thursday morning, the government said on Friday.
As search and rescue efforts continue Friday after a 6.7-magnitude quake struck Japan's northernmost prefecture a day earlier, police, firefighters and thousands of Self-Defense Forces personnel used heavy machinery to remove rubble.
In one of the hardest-hit towns of Atsuma where massive landslides buried numerous homes, rescue teams were combing through the rubble with their hands, looking for signs of those still unaccounted for.
Whole mountain ranges in the hardest-hit regions had their landscapes altered owing to massive landslides, local media reported.
Some 2.95 million homes were without electricity, as the entire prefecture suffered a power outage, with Hokkaido Electric Power Company initially saying it might take up to a week until power is fully restored in its service area.
In addition, hundreds of thousands of households were reported as having no water supply, local utilities also said.
But easing the pressure somewhat Friday, power was reconnected to 3 million homes in Hokkaido, the utility said.
Nevertheless, according to prefectural officials, more than 6,400 people were forced to spend the night at evacuation centers in the prefectural capital of Sapporo.
According to transport officials, Hokkaido's Shinkansen bullet train service will likely resume at noon on Friday and Sapporo's subway system will also resume services.
According to local media reports, the local office of the transport ministry said that power has been restored to the terminal building at New Chitose Airport, the gateway to Hokkaido.
Airlines are now making arrangements to resume operations, but all Friday morning flights have been cancelled.
At least 300 people have been injured as a result of the earthquake measuring the maximum 7 on Japan's seismic intensity scale.
This marked the first time a quake in Hokkaido has reached this intensity level since the seismic scale was revised in 1996, Japan's weather agency said.
Hundreds of aftershocks have since followed and the JMA has warned that earthquakes over 5.0-magnitude could continue in the area for about a week.